Tobacco Mosaic Virus
– by Colle and Phyllis Davis
Tomato mosaic virus cause yellowing and stunting of tomato plants and cuts yield production.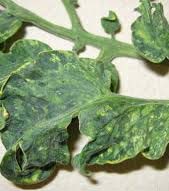 The effects of tobacco mosaic virus on a tomato plant.
NO SMOKING ALLOWED IN THE GREENHOUSE.
AND NO SMOKERS ALLOWED IN THE GREENHOUSE WHO HAVE BEEN SMOKING OUTSIDE THE GREENHOUSE.
NO VAPING WITH E-CIGS OR E-CIG SMOKERS ARE ALLOWED IN THE GREENHOUSE. Anyway you cut it, tobacco is tobacco.
All forms of tobacco, smoke, vapor or nicotine will cause Tobacco Mosaic Virus, Cucumber Mosaic Virus and other blooming plant viruses. 
No marijuana smoking or marijuana smokers should be allowed in the greenhouse.
Smokeless tobacco (chewing tobacco, dip, snuff, pouches) can also carry the tobacco mosaic virus and is transmitted by human hands to the plant material.
Since you cannot use any type of insecticide in an aquaponics system (or you'll kill the fish), you must protect your plants and fish from toxins, pathogens, and insects.
We recommend that anyone who touches the gravel or the plants wear clean disposable gloves, every time they work in the farm. We also recommend that NO TOBACCO USERS, NO SMOKING AND NO SMOKERS ever be allowed to handle the gravel or handle the plants (with our without gloves) for fear of introducing the tobacco mosaic virus into the farm. We also recommend all plants are grown from seed because small plants brought in from nurseries hold a high possibility for having been handled by smokers and may also contain aphids and other pests.
This Tobacco Mosaic Virus attacks tomatoes, cucumbers and peppers and produces
bumps on the leaves, uneven coloring and stunted and distorted fruit.
Here are some links for more information:
---