Fish-Friendly Mineral Rock Dust &
Worm Castings
Fish Effluent (yes, we are talking about fish poop) is NOT ENOUGH to grow food.

PFAS's Fish-Friendly Mineral Rock Dust & Worm Castings are the game changers that have elevated aquaponics from hobby farms to commercial growing. We have cracked the code for growing food faster, healthier and with larger plants capable of growing blooming plants that produce food (with fewer blossom drops).
Just sprinkle FF MINERAL ROCK DUST ROCK on your growing medium, water the medium and then plant your seeds. It is as easy as that. 
We have repeatedly sold our FF Mineral Rock Dust to customers in all 50 states  as well as to commercial-farm owners operating Portable Farms Aquaponics Systems in Africa.

(left) A newly constructed Portable Farms® Aquaponics System
prior to planting or installing the fish in the fish tanks.
(right) 40 days after the seedlings were planted in the Grow Tables
and the fish were installed in the fish tanks.
Phyllis Davis quoted in The New York Times April 7, 2020.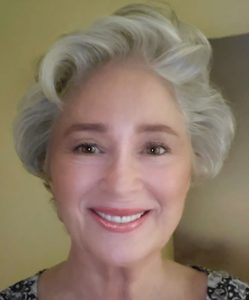 "Phyllis Davis, president of Virginia-based Portable Farms Aquaponics Systems, said its web traffic has doubled since the coronavirus outbreak. The company offers clients at-home farming kits, with online instructional courses on assembling its portable system and understanding aquaponics, a process of growing food using fish excretions as fertilizer. "Food security and sustainability are a very hot topic right now," Ms. Davis said."
If video is not visible, please UNBLOCK your browser to allow YouTube to play.
Colle and Phyllis Davis, inventors of Portable Farms Aquaponics Systems, announce the breaking news that one in four Americans are now suffering from hunger due to the effects of the Covid-19 pandemic. Aquaponics is one of many ways to provide food and jobs during these difficult times. 
If video is not visible, please UNBLOCK your browser to allow YouTube to play.
View a 2-minute video clip of the interior of 16 x 33′ Portable Farms® Aquaponics Systems – This small 16 x 33′ Portable Farms® Aquaponics Systems (in above video) feeds ten people the table vegetables and protein (tilapia) the food they need for optimal health – forever in 528 sq ft total space and 264 square ft grow space. This YouTube video has been viewed more than 66,838 times.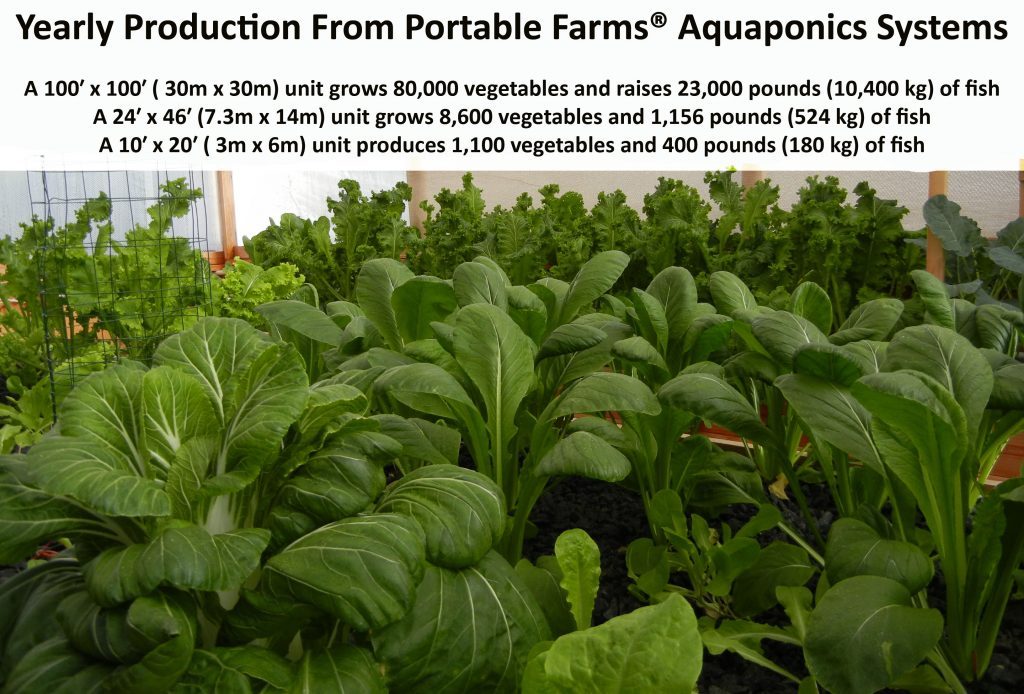 Grow Food in an Above Ground (movable) Tub with Soil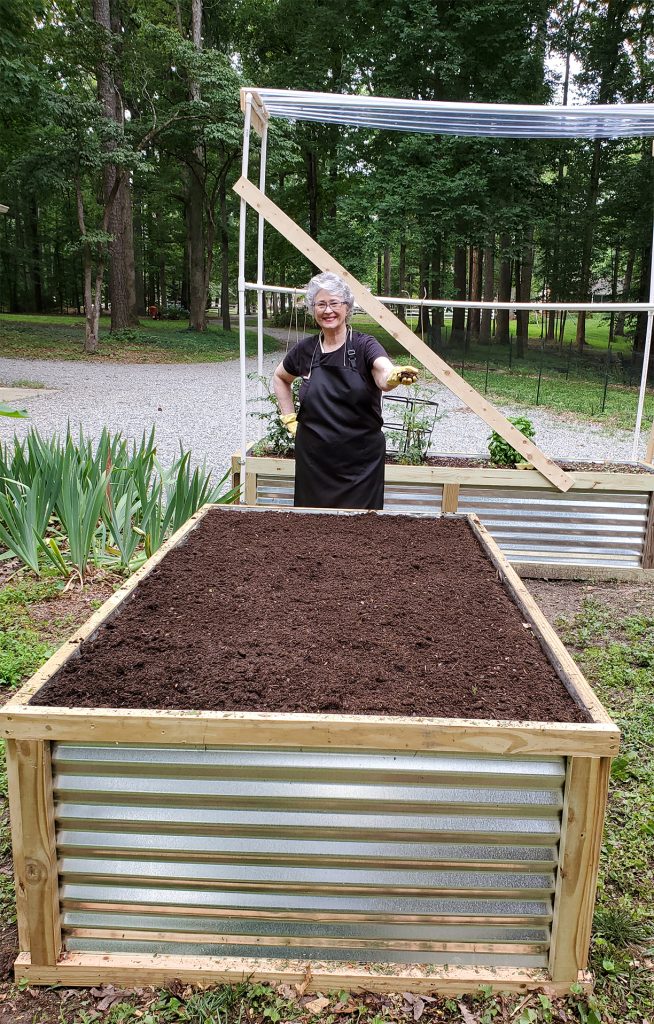 Phyllis Davis standing before one small and one large tub above-ground-soil-garden that Colle Davis and I built in a couple of days. We built these little farms for summer growing near our kitchen door. 
These soil gardens are based on a German method for growing food we wanted to share with our Friends of Portable Farms called Helkultur which means "hill culture". Hugel beds start with a base of drying tree logs and branches, mulch, grass clippings and twigs and topsoil. 
This page offers (free) suggestions and a visual tutorial for building an above-ground garden, often referred to as a raised bed. 
This is a great family project with quick tasks for every member of your family to join in the fun.
The cost of this small garden was approximately $100 for the materials and the larger tub was about $125. You can prepare the parts and then assemble the tub anywhere that receives six hours of direct sunlight. Some vegetables require less sunlight, but most like lots of sunshine.
We realize many folks may not be able to afford one of our aquaponics systems right now, but perhaps you can build one of these gardens at home, or consider building several in a community garden to grow food to feed families during this pandemic crises and high unemployment.
We make it easy for you to own a Portable Farms® Aquaponics System.
* To find out what is IN the Portable Farms® Kit and what is NOT in the Portable Farms® Kit , please request the FREE AND INSTANTANEOUS PRICE LIST (second box on top panel on every page of this website).
* Shipping and postage are included to addresses in the US only, BUT for all order outside the US there is a US$140 shipping and handling charge. 
* You may pay with PayPal, Major Credit Cards and Wire Transfers.
* If you prefer, you may call us to give us your credit number over the phone: 800-906-0256 OR 800-952-6224. We also accept checks, wire transfers and money orders.
* Most students complete our online aquaponics' course in about twelve hours.
* Our aquaponics course is online and self-paced. You have one year to complete the course. Many families install a backyard aquaponics system over a weekend assuming they have some basic skills for home repair and have access to repair tools.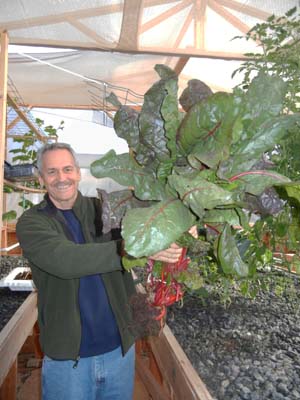 See our images of food commonly grown in a Portable Farms® Aquaponics Systems.
CLICK HERE.
Portable Farms® grow most green table vegetables and tank-raised fish, primarily tilapia fish. (image left) Colle Davis holding a massive single stalk of Swiss Chard.
We also grow blooming plants such as tomatoes, cucumbers and peppers year round in warm greenhouses with additional grow lights.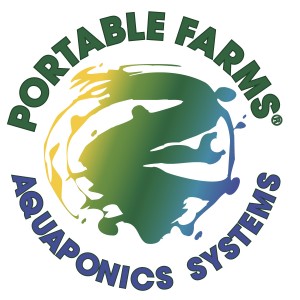 Aquaponics University presents
Portable Farms® Aquaponics Systems ONLINE COURSE
READ FOR FREE: THE ENTIRE CURRICULUM OUTLINE for 


Portable Farms® Aquaponics Systems Course© –

CLICK HERE.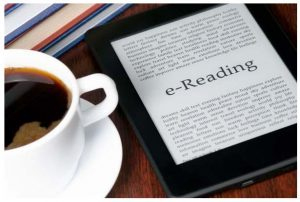 Read Six E-books (downloadable) about Aquaponics-Related Topics
Written by Colle and Phyllis Davis,

Inventors, Portable Farms® Aquaponics Systems.
This comprehensive information about commercial aquaponics provides you will all the facts you'll need to make an informed business decision about commercial aquaponics growing in controlled environment agricultural (CEA).
We're also offering TWO FREE BONUSES with the purchase of Commercial Aquaponics GOLD: 1) A formal ten-step strategy business plan template designed specifically for commercial aquaponics growing to present to funders and, 2) PFAS LLC's Executive Summary showing production and operating costs, profits and best-produce choices to achieve the shortest Return on Investment.
Listen to Phyllis Davis tell you about AQUAPONICS GOLD: CLICK HERE.
Learn How to Raise Healthy Fish and Vegetables in Aquaponics. We reveal 17 Trade Secrets.
An overview for those considering the option of installing an aquaponics system near their home.
This ebook discloses the facts, figures and formulas necessary for successful greenhouse and warehouse aquaponics growing.
Let us show you HOW, WHY, WHAT, WHERE and HOW MUCH it costs to install your own solar powered system for YOUR aquaponics system.
OR, INCLUDE AN AUTOMATIC TRIP VALVE WITH THE SAME BOOK:
Aquaponics' Grow Tables raise healthy, fresh table vegetables. Portable Farms® Grow Tables never overflow and are now fully automatic.

One module of a Portable Farms Aquaponics System can be sized to feed two people (5'x10′) to eight people (6'x32′). This translates as 25 square feet per adult.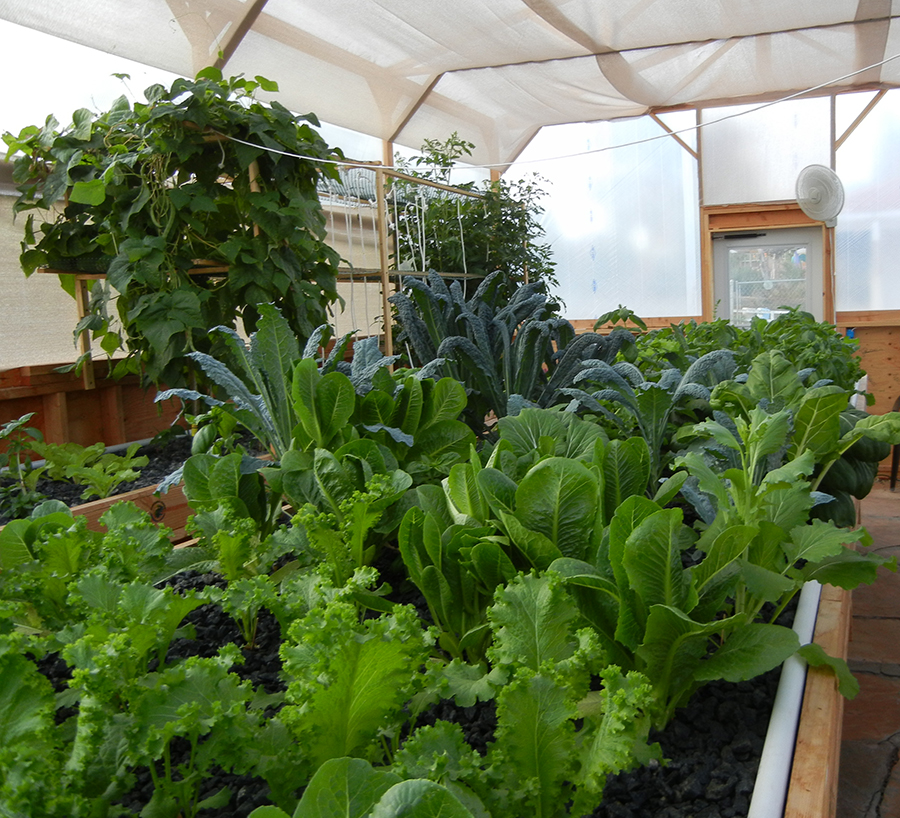 Interior of a 16 x 33′ Portable Farms® Aquaponics Systems.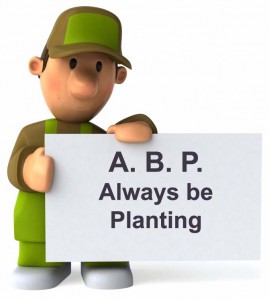 SIX SEXY SECRETS For a Successful Aquaponics System
 ALWAYS BE PLANTING. Every time you harvest a plant from your grow table, plant a new one in it's place.  Plant, harvest, plant harvest, repeat.
PRAY FOR POOP. The fish poop is the precious nutrient stream that delivers the plants their food to grow tall, healthy and green.  If your fish are happy, you'll grow beautiful food.  We even sing to our fish when we feed them and they love it. They begin to frenzy when they hear our voices.  In fact, they'll eat fish food out of our hand. They also enjoy consistent water temperatures of 78 degrees F.
GOOD DAY SUNSHINE. Your plants need a minimum of six hours of direct sunlight. In winter months, we use grow lights to extend the available sunlight for an additional four hours per day.
NO SMOKING AND NO SMOKERS IN THE GREENHOUSE.  All forms of tobacco, smoke, vaping or nicotine will cause Tobacco Mosaic Virus, Cucumber Mosaic Virus and other blooming plant viruses. 
BUGS BE GONE. Since you cannot use pesticides in your aquaponics system (they'll kill the fish), it's important to make sure no insects of any kind (including ants) come into the greenhouse.
WEAR GLOVES when you're working in the greenhouse. This protects your plants and fish from your germs, pathogens, hand lotion, perfume, etc.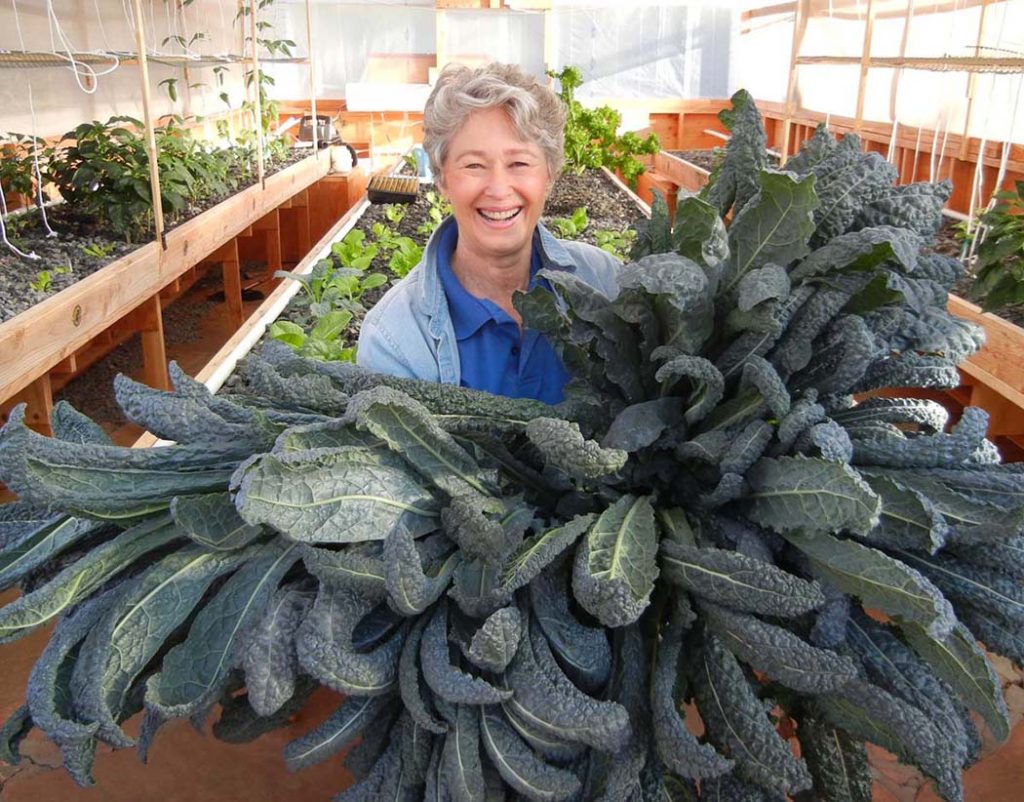 Phyllis Davis, co-inventor of Poratable Farms® Aquaponics Sytems, holding eight heads of kale Each kale stalk ranges in length from 40″ to 47″. This kale was grown in 45 days.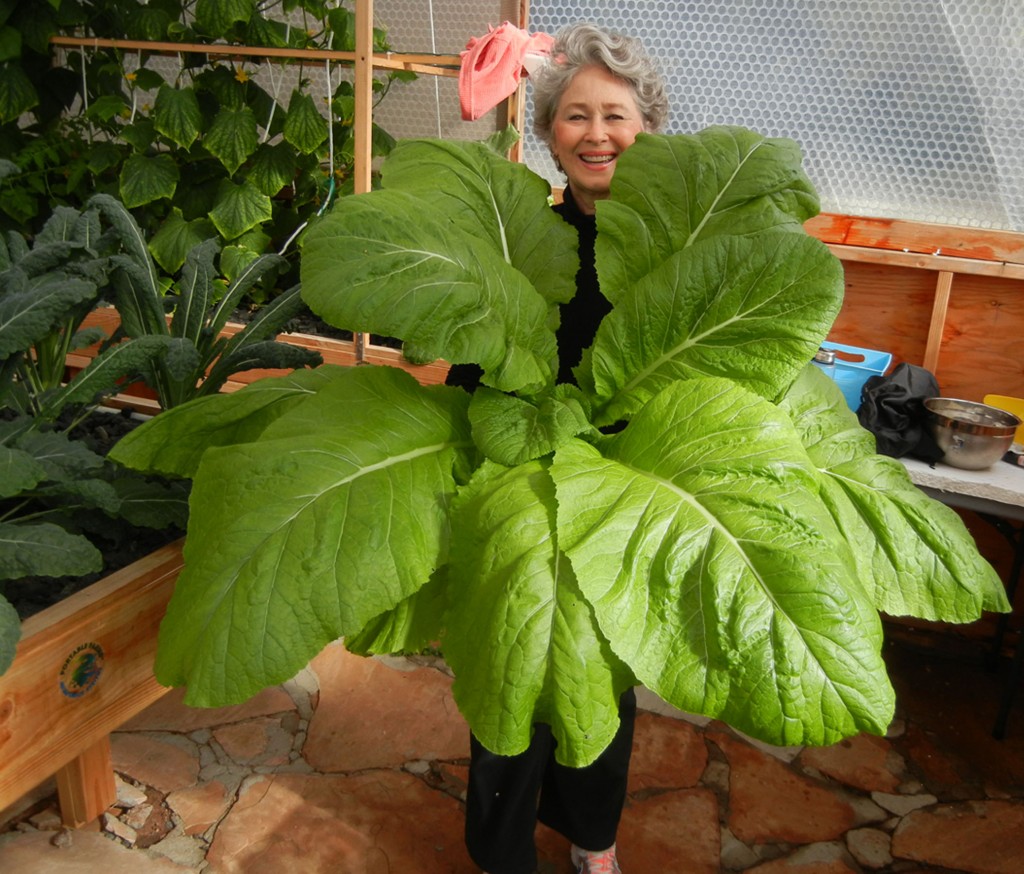 One head of India Mustard, a very mild Asian green used as lettuce. Grown  in a Portable Farms® Aquaponics System in 42 days.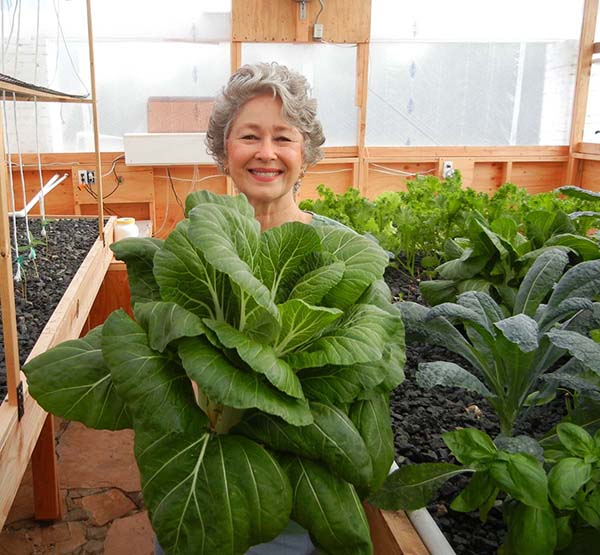 One head of Bok Choy grown in a Portable Farms® Aquaponics System in 48 days. This bok choy weights 12 pounds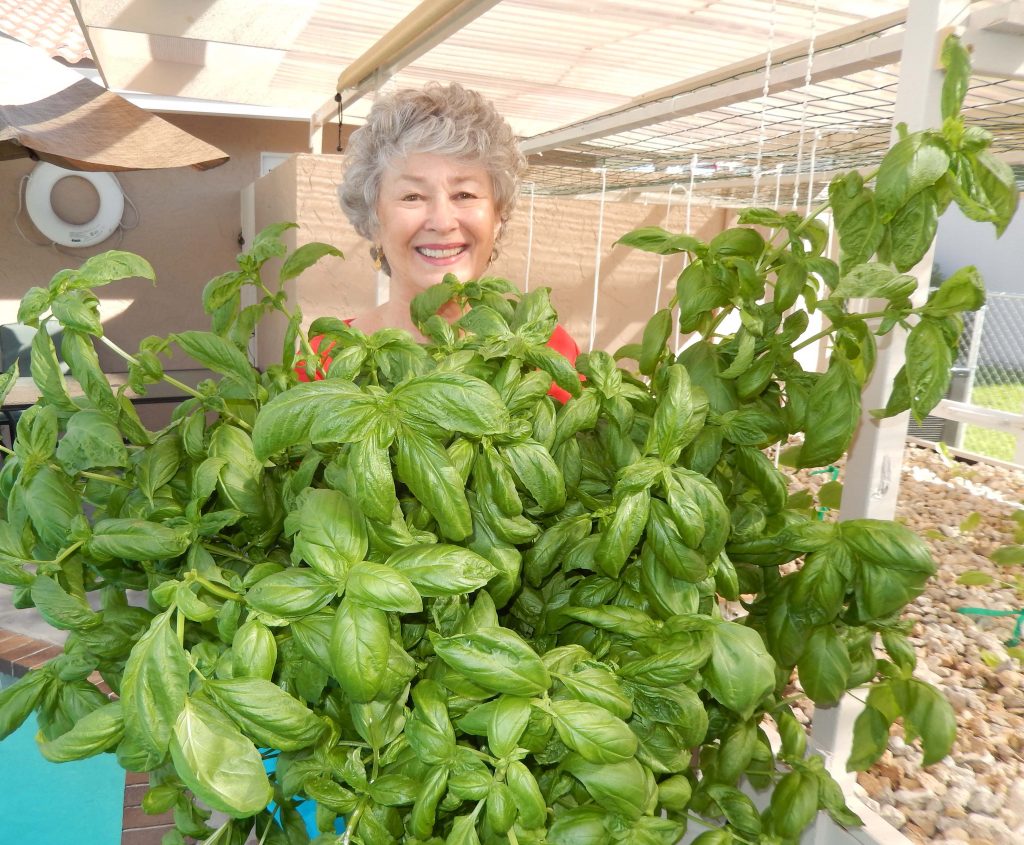 Sixteen heads of basil Portable Farms® Aquaponics System in 44 day. Each stalk of this basil averages 37″.
If video is not visible, please UNBLOCK your browser to allow YouTube to play.
Phyllis Davis was awarded Second Prize after presenting Portable Farms® Aquaponics Systems to the San Diego Inventors Forum's Annual Inventors Contest. View 8-minute presentation on YouTube video above (viewed more than 31,012 times).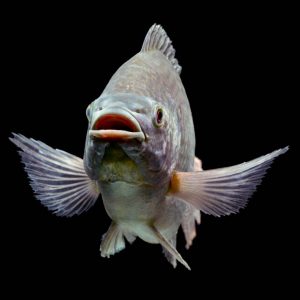 Aquaponics raises Mozambique tilapia.
Tilapia are a warm water, fresh water fish.
Please read our updated 2020 Business Standards: