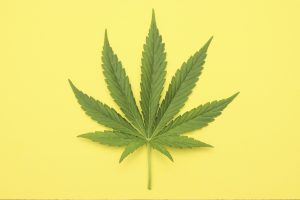 One of the most frequently asked questions we receive is, "Can I grow marijuana in my Portable Farm?"
There are  many variables to this question but,  "Yes,  you can grow marijuana in aquaponics."
In this series, we discuss the different ways to grow medical herbs in aquaponics, the necessary modifications to produce the best results, and the pitfalls of single cropping and mixing herbs with other plants in the grow table.
In our first year of offering the Portable Farms Aquaponics Systems training in 2008, the most common general question we received was, "How does that thing work?" meaning aquaponics.

The next question was, "Can I grow marijuana in aquaponics?"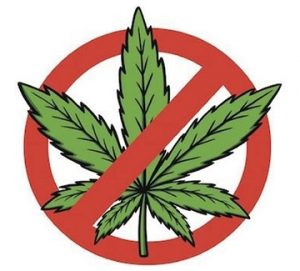 Step back for a moment. When we launched Portable Farms in 2008, marijuana was illegal in most places in the US, including California, where we lived at the time. Supporting an illegal activity with the use of our technology gave us pause and our lawyers warned us against pursuing anything related to marijuana. We would not be doing anything illegal by selling our systems for the purpose of growing marijuana by our customers, but we were advised to avoid anything that could draw negative attention to our young and thriving company. We took their advice.
About that time, a competitor of ours in the aquaponics business decided to grow marijuana and they both went to jail. We wanted to avoid any implications or suspicions that could create legal problems.
Now, 13 years later, the laws have changed in many US states (list below) regarding the laws for owning or growing marijuana. Small amounts (generally 2 to 6 plants at a time determined by State Law) of marijuana for personal use. Check with the laws in your state for laws related to using or growing marijuana.  We do NOT grow marijuana. FULL STOP.  We accept no responsibility regarding legal advice or updated rulings or information. The suggestions contained in this series or articles are based on our vast experience in growing a wide variety of kitchen herbs that require similar growing conditions including water needs, sun requirements, spacing, fertilizing, and other aspects. 
Information for Growing Herbs in Aquaponics

One module of a Portable Farms Aquaponics System
Growing herbs requires research for each plant to determine their watering needs. Many herbs require less water than the vegetables or greens that are grown in Portable Farms. In fact, many plants prefer loose sandy soil over aquaponics growing for that very reason.
All Portable Farms® Kits are commercial kits designed to support Grow Tables up to and larger than 200 sq ft (18m2) and work even for the smallest Grow Table installations. The difference is the timing of the water flow.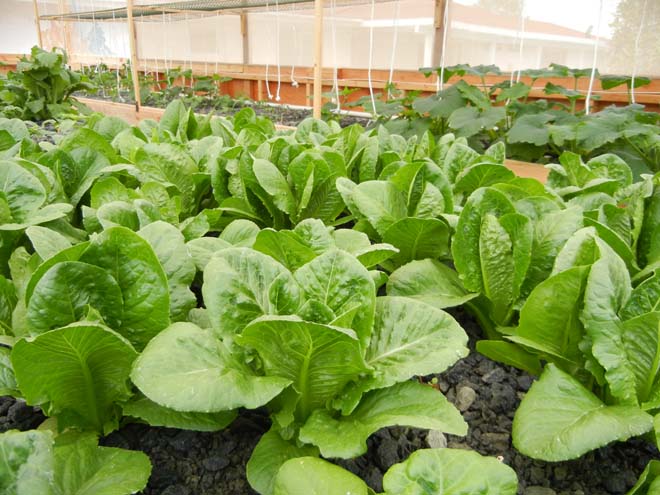 Aquaponics is best known for growing greens. The image above is a tray of Romaine Lettuce.
If you want to grow a few 'herbs' in your regular Portable Farms® Module, plant a few seeds and see how they mature. You may find they require one water cycle and not two cycles per day.
Changing the timing on the water pump to once a day with a longer cycle still gives you great vegetables, and your herbs will be happier. If you are only growing greens, changing to once-a-day timing will slow their growth a bit because they love water. Herbs, not so much.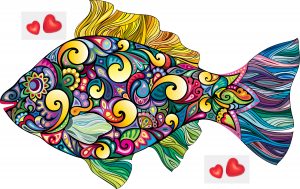 Fish joke: We do not yet have data on whether the fish get the munchies from the new plants, but when someone has good data, we will see if we can share it with you.
Mixing plants and herbs in a single Grow Table means compromising on production because of the plants different moisture needs. Tomatoes, cucumbers, beans, and peppers dislike wet roots but enjoy daily watering. They need plenty of water in the morning, but not in the afternoon.
For example, lettuce, Swiss chard, bok choy, kale, mustard greens, and collards enjoy two water cycles a day. This water need is why raft culture works well for them; their roots are in water all the time. Herbs prefer a much dryer root zone and become waterlogged and unhappy when overwatered.
Next, in this series on growing marijuana in Portable Farms Aquaponics Systems, we will cover modifications to the basic Module layout to produce a more abundant crop. You can still use some of the Grow Table for regular vegetables, so you can grow your herbs and vegetables at the same time.
The following list by Disa.com provides information regarding growing cannabis in all US States.
Last Updated: June 2021
Note: State status reflects current laws at time of update, not pending legislation or future dates upon which marijuana becomes available medicinally or recreationally.
* Enactment is pending until future date.
| | | | | |
| --- | --- | --- | --- | --- |
| State | Legal Status | Medicinal | Decriminalized | State Laws |
| Alabama | Mixed | Yes | No | |
| Alaska | Fully Legal | Yes | Yes | |
| Arizona | Fully Legal | Yes | Yes | |
| Arkansas | Mixed | Yes | No | |
| California | Fully Legal | Yes | Yes | |
| Colorado | Fully Legal | Yes | Yes | |
| Connecticut | Mixed | Yes | Yes | |
| Delaware | Mixed | Yes | Yes | |
| District of Columbia | Fully Legal | Yes | Yes | |
| Florida | Mixed | Yes | No | |
| Georgia | Mixed | CBD Oil Only | No | |
| Hawaii | Mixed | Yes | Yes | |
| Idaho | Fully Illegal | No | No | |
| Illinois | Fully Legal | Yes | Yes | |
| Indiana | Mixed | CBD Oil Only | No | |
| Iowa | Mixed | CBD Oil Only | No | |
| Kansas | Fully Illegal | No | No | |
| Kentucky | Mixed | CBD Oil Only | No | |
| Louisiana | Mixed | Yes | No | |
| Maine | Fully Legal | Yes | Yes | |
| Maryland | Mixed | Yes | Yes | |
| Massachusetts | Fully Legal | Yes | Yes | |
| Michigan | Fully Legal | Yes | Yes | |
| Minnesota | Mixed | Yes | Yes | |
| Mississippi | Mixed | Yes | Yes | |
| Missouri | Mixed | Yes | Yes | |
| Montana | Fully Legal* | Yes | Yes* | |
| Nebraska | Fully Illegal | No | Yes | |
| Nevada | Fully Legal | Yes | Yes | |
| New Hampshire | Mixed | Yes | Yes | |
| New Jersey | Fully Legal | Yes | Yes | |
| New Mexico | Mixed | Yes | Yes | |
| New York | Fully Legal | Yes | Yes | |
| North Carolina | Fully Illegal | No | Yes | |
| North Dakota | Mixed | Yes | Yes | |
| Ohio | Mixed | Yes | Yes | |
| Oklahoma | Mixed | Yes | No | |
| Oregon | Fully Legal | Yes | Yes | |
| Pennsylvania | Mixed | Yes | No | |
| Rhode Island | Mixed | Yes | Yes | |
| South Carolina | Fully Illegal | No | No | |
| South Dakota | Fully Legal* | Yes* | Yes* | |
| Tennessee | Fully Illegal | No | No | |
| Texas | Mixed | CBD Oil Only | No | |
| Utah | Mixed | Yes | No | |
| Vermont | Fully Legal | Yes | Yes | |
| Virginia | Fully Legal* | Yes | Yes | |
| Washington | Fully Legal | Yes | Yes | |
| West Virginia | Mixed | Yes | No | |
| Wisconsin | Mixed | CBD Oil Only | No | |
| Wyoming | Fully Illegal | No | No | |