The Real Cost of INDOOR Aquaponics
–by Colle Davis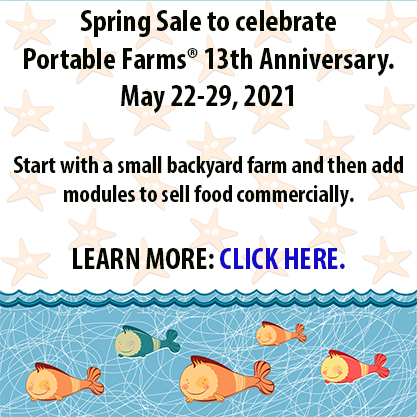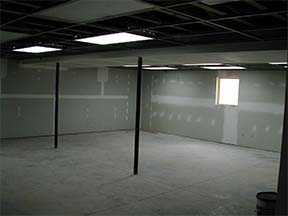 Aquaponics is a pesticide-free and chemical-free way to grow food. More and more people require food grown under these conditions.
Building a garden at your home gives you the advantage of controlling what you and your family eat.
The plants growing in the aquaponics' grow tables are filled with crushed gravel. The plants receive their nutrients from the fish effluent (tilapia or catfish). Because of the ideal growing condition, the food is vulnerable to insects (ants, aphids, and mold), and the use of insecticides will kill the fish.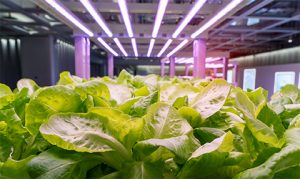 Aquaponics' grow tables typically are installed in insulated greenhouses that receive a minimum of six hours of direct sunlight per day and protect from wind, rain, birds, rodents, and insects. Aquaponics systems may also be installed in well-ventilated warehouses with the addition of LED grow lights in place of direct sunshine.
Aquaponics uses air pumps, and we don't recommend installing the systems in an empty room in a house. This caveat relates to the air pumps' sound, along with the slight smell emitted from the fish tanks can be distracting.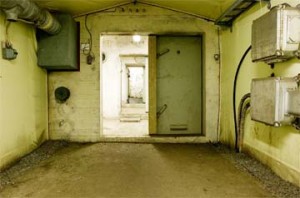 However, we do recommend installing an indoor aquaponics system to grow fresh table vegetables and tank-grown fish. You can easily convert space in your basement, garage, workshop, or enclosed porch. If you have available space, you can install a grow table and fish tank to grow food and have fun.
When people contact us, they always ask, "What will it cost me to get started?"
Here is the answer:
The Portable Farms® Aquaponics Systems Course© includes the Portable Farms® Kit containing the Portable Farms® Aquaponics Systems' technology. Our online course teaches you to how to build and operate your aquaponics' system. To learn the cost of our online course, please visit our website (right panel signup).
The cost of the materials to build one module to feed eight people up to 200 sq ft [18.6m²] of grow space is approximately US$700 anywhere in the world.

Full-spectrum grows lights ensure growth for the plants (both green and blooming plants), and the cost is about US$400 (price does not include the electricity required for the grow lights).
This total of $3,500 plus some labor includes cost variances and is in the US$4,000 range. This cost excludes anything related to a greenhouse. This quote/information specifies costs to install a Portable Farms® Aquaponics System in an indoor growing space.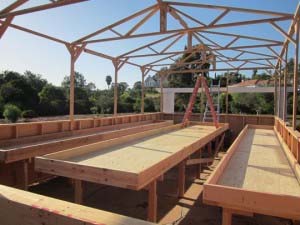 Outdoor Portable Farms® Aquaponics Grow Tables  
Caveats to be aware of in this conversion process: 
The numbers above apply to spaces up to 450 sq ft (42m²). Above 450 sq. ft. (42m²), you will need two grow tables, and the cost will go up, but not much on a per sq. ft. basis.
Any space you utilize will require excellent ventilation to reduce the humidity. Having an indoor garden means you will be venting some oxygen and humidity into your very dry space or outside your home in most cold climates.

We recommend you clean and paint the space before using it. The area needs to be clean of dirt, dust, and mold.

The grow tables are heavy, so the floor underneath them must safely support 30 lbs. per sq foot (4.8k per m²) of dead load.
Water gets spilled, and the floor space must be easy to clean up (preferably with a hose).
Square spaces are much harder to plan and build in than rectangular areas.
The total cost to convert an enclosed space of 12ft x 25ft (3.7m x 7.6m) or a similar size is close to that described above. The cost per square foot will be in the range of US$12+ per sq. ft (4.8k per m²) approximately.
Diagram of One Module of a Portable Farms Aquaponics System
Here are the necessary parameters to determine how to utilize the space:
Grow Tables usually are 5ft or 6ft (1.5m or 1.8) wide and up to 40ft (12.1m) long. The most effective way to utilize space is to subtract 4ft (1.2m) from the area's length to see how long a grow table will fit and how many grow tables and aisles you can do in the space.
A module (grow table and fish tank) is 7.5ft or 8.5ft (2.25m or 2.6m) wide. The width of the grow table plus a 2.5ft (0.76m) aisle on each side.
Use the formula to find the number of modules to fit into your space. The floor space width minus 2.5ft (0.76m) divided by 7.5ft or 8.5ft (2.25m or 2.6m) equals the number of modules that will fit in the area you have available.