PFAS LLC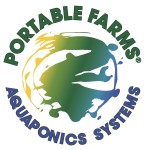 Colle Davis, CEO, 804-464-3532 (EST) – Skype – EMAIL
Phyllis Davis, President – 804-464-3537 (EST) – Skype – EMAIL
READ THE ENTIRE AQUAPONICS COURSE OUTLINE: CLICK HERE.
Aquaponics University Online Courses are offered to residents
of the US and Canada and most other countries.
Both Portable Farms© Aquaponics Systems and Aquaponics University are wholly
owned by PFAS LLC, a Virginia based LLC, USA.
Private tours are no longer available for Portable Farms® Aquaponics Systems

. Over the years, we have provided nearly 8,000 private guided tours of our aquaponics systems, but due to time constraints and the explosive and global growth of our company, we no longer offer tours. 
---
Portable Farms® Aquaponics Systems are the most efficient commercial aquaponics systems in the world.
---

PFAS LLC receives approximately 25% of the total cost of the initial installation of a 10,000 sq. ft. commercial Portable Farms® Aquaponics System.
There are three components of each commercial project for which PFAS LLC is financially compensated: 1) The cost of the PFAS Technology Kits, 2) providing our trained construction foreman onsite for the first Unit's installation and, 3) the online training for the operators of the aquaponics systems.