Fish-Friendly Mineral Rock Dust
Fish Effluent (yes, we are talking about fish poop) is NOT ENOUGH to grow food.
CLICK HERE to learn about Worm Castings. Both Worm Castings or Mineral Rock Dust have been shipped to Portable Farms® customers in ALL 50 US STATES!
Find the Order Form at Bottom of this Page.

PFAS's Fish-Friendly Mineral Rock Dust & Worm Castings are the game changers that have elevated aquaponics from hobby farms to commercial growing. We have cracked the code for growing food faster, healthier We have repeatedly sold our FF Mineral Rock Dust to customers in all 50 states as well as to commercial-farm owners operating Portable Farms Aquaponics Systems in Africa.
Our FF Mineral Rock Dust is an amendment or addition to a system that is safe and effective to use in all types of aquaponics systems (medium base or raft systems).
Fish Friendly Mineral Rock Dust provides aquaponics with larger plants capable of growing blooming plants that produce food (with fewer blossom drops).
Just sprinkle FF MINERAL ROCK DUST ROCK on your growing medium, water the medium and then plant your seeds. It is as easy as that.
Aquaponics growers appreciate the perfect balance of four major trace elements not consistently available from your fish poop. Now you can grow blooming plants in aquaponics with the addition of FF Mineral Rock Dust. Now your plants will receive nitrogen from your fish poop PLUS calcium, iron, magnesium and potassium from the FF Mineral Rock Dust and 57 other trace elements that promote plant growth.
PFAS LLC makes available our FF (Fish Friendly) Mineral Rock Dust that enhances the health of your plants and your fish with trace elements vital to your system for encouraging healthy green plants and prompts your blooming plants to blossom and produce vegetables in your aquaponics system (reduces blossom drops).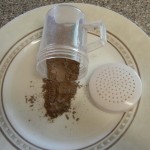 FF (Fish Friendly) Mineral Rock Dust. It looks like chocolate talc.
It is exceptionally light and powdery.
Photo above shows FF Mineral Rock Dust spilling out of a saltshaker onto a dinner plate.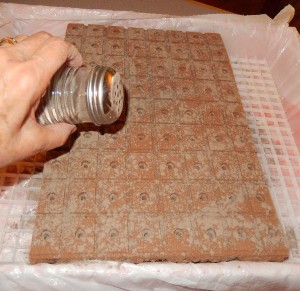 Just sprinkle FF Mineral Rock Dust on your planting medium in a saltshaker,
plant the seeds and water them. That is it!  It works like MAGIC. 
Our Fish-Friendly Mineral Rock Dust gives your aquaponics' system a HEALTHY KICK for growing healthy greens, blossoming plants, and fish without the use of any chemicals:
– Iron
– Magnesium
– Calcium
– Potassium (vital for blooming plants, tomatoes, peppers, cucumbers, etc.)
– It also includes 57 other trace elements for successful growing in your aquaponics or hydroponic system and it is FISH SAFE. 
The use of FF Mineral Rock Dust keeps you from playing the 'chemical numbers game' and constantly guessing whether you are doing it correctly.
QUESTIONS AND ANSWERS
Question: What trace elements should I use to solve a variety of growing and blossoming issues in aquaponics?

Answer: Calcium, iron, magnesium, and potassium
Question: How much FF Mineral Rock Dust should I add to my aquaponics system?

Answer: We recommend one pound per 200 square feet of growing space.
Question: Is it safe for my fish?

Answer: YES, if used as directed in the instructions sheet that accompanies the FF Mineral Rock Dust.
Question: How often should I use the FF Mineral Rock Dust in my aquaponics systems?

Answer:  Sprinkle FF Mineral Rock Dust on your growing medium and wet with water before planting your seed.

Question: What is he cost of the FF Mineral Rock Dust? Is it affordable?

Answer: YES, it is extremely affordable. A minimum order is a 5-pound bag is $29.95 (plus applicable taxes) plus shipping. Again, we recommend using one pound per 200 feet of grow space in an aquaponics system. FF Mineral Rock Dust is easy to apply, and it is very affordable for both backyard farms and commercial aquaponics growing.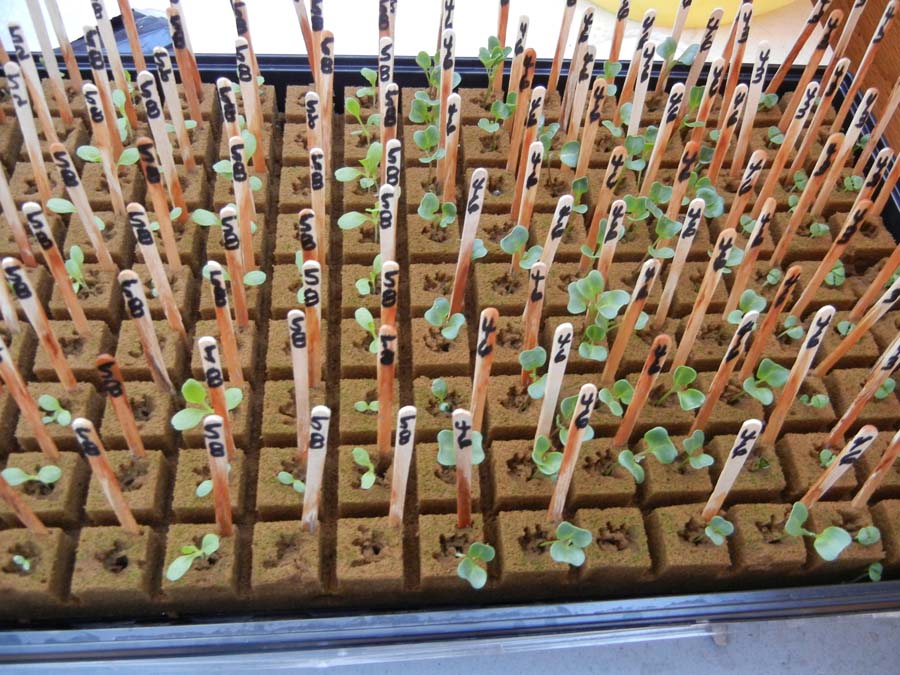 UPDATED DIRECTIONS FOR USING MINERAL ROCK DUST 
The reason we are posting these updates related to the application of Mineral Rock Dust is because we have reports people are using far too much Mineral Rock Dust in their grow tables creating muddy gravel in the grow tables.
It is safer to dust the seeds in their growing medium and water the seeds during the germination stage in their growing medium before inserting the seedling into the grow tables when the seedlings are 1″ to 3″ tall.

When the blooming plants are mature (often 90 days for tomatoes), and they begin to blossom, you can LIGHTLY DUST around the base of the plant.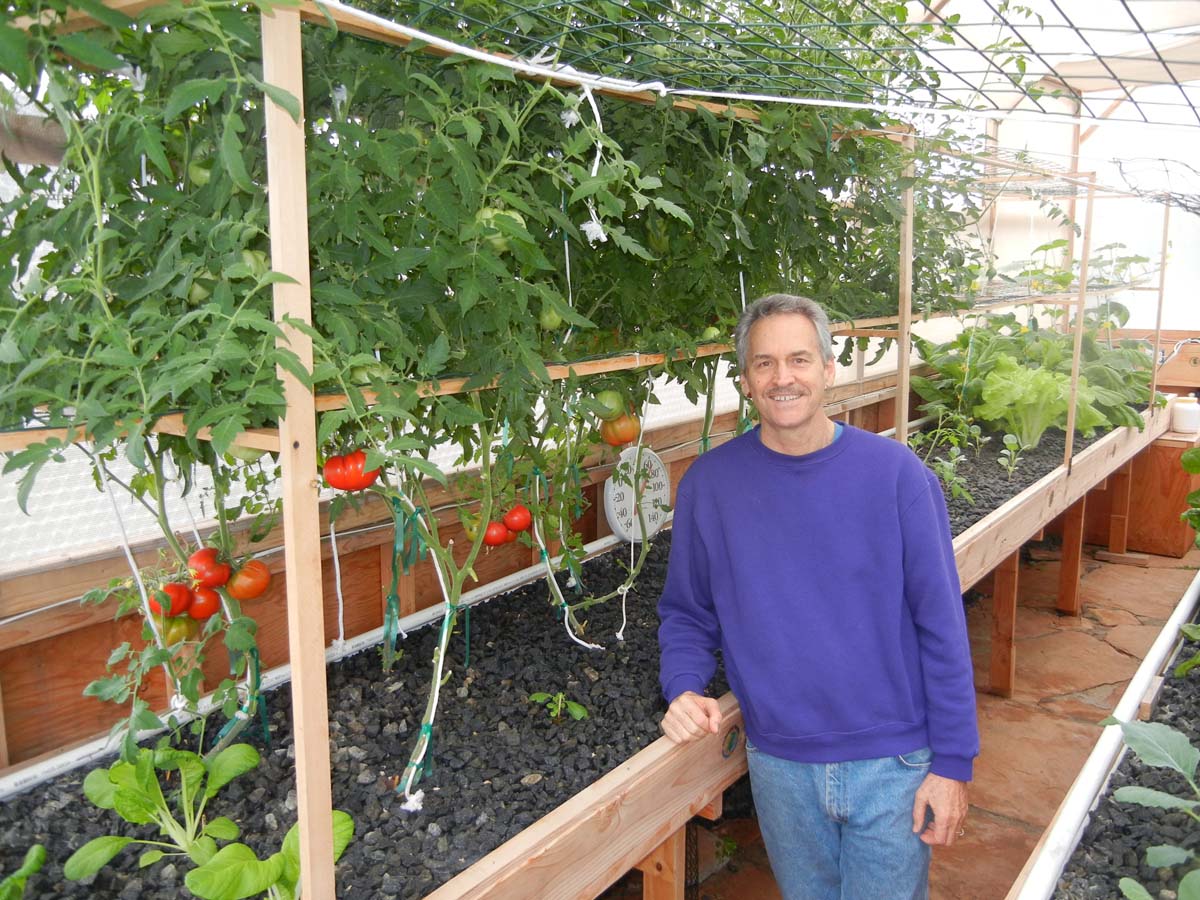 Colle Davis, Lead Inventor, Portable Farms Aquaponics Systems,
standing in front of four very large tomato plants.
The grow tables in Portable Farms Aquaponics Systems do NOT need to be cleaned. The poop-free water flows through our grow tables twice per day to feed and water the plants, and then, the freshly oxygenated water drains back into the fish tank. We do remove plant's detritus (root remnants) from large plants (tomatoes, cucumbers, beans, etc.) from the gravel with a small gardening tool (resembles a small rake). 
If you sprinkle the Mineral Rock Dust directly onto the gravel many times a year, it will accumulate over time and require removing the gravel and washing it with a hose and then returning the gravel back into the grow table.  This is avoidable! Cleaning the gravel is a difficult job that requires body strength and stamina to accomplish. 
Whether you are using FF Mineral Rock Dust in one of our Portable Farms Aquaponics Systems or you are using another type of aquaponics system, here are some new suggestions (below) to reduce the accumulation of silica or dust contained in the Mineral Rock Dust.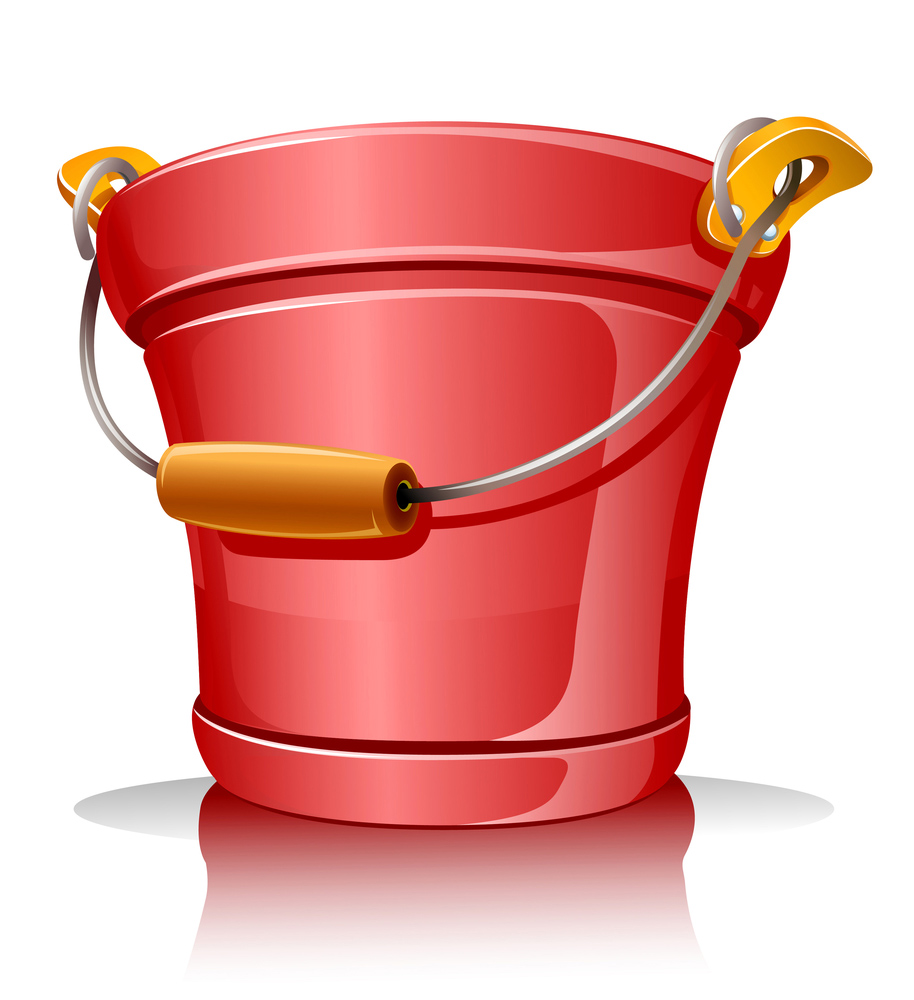 Place one half cup of Mineral Rock Dust into a five-gallon bucket.

Fill the bucket with water and blend the Mineral Rock Dust in the water. Stir the ingredients every ten-minutes for half an hour to assure the water becomes laced with the 57 trace elements contained in the Mineral Rock Dust.

After mixing, immediately drain the mineral-rich water into a separate (clean) bucket.  

After you have moved the water, leave the muddy mixture in the bottom of your bucket.

 Take your bucket with the 'mud' in the bottom into your garden and rinse it with a garden hose into your bushes, lawn, flowers, or the base of your trees. This is nutrient rich and will fertilize anywhere you use it. 

Now you can ladle the nutrient-rich water on the base of your growing plants that are growing in the grow tables of your farm every few weeks to enhance their growth and assure blossoms.
One of the expressions we use frequently regarding planting in our Portable Farms Aquaponics Systems is, "If a plant has a 'happy childhood,' it will grow to be a healthy plant." And it is so true. If you take care of every stage of planting your seed, growing a seedling, and placing it into your Grow Tray, you have a far better chance of growing a healthy plant. If any step of this process during 'childhood' is neglected, you will be disappointed with your growing efforts.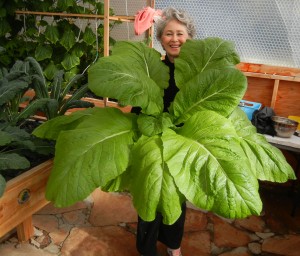 One head of India mustard, an Asian Green grown with FF Mineral Rock Dust grown by Phyllis Davis.
The affluent – the fish poop – provides ample levels of nitrogen, but nitrogen is NOT enough to grow healthy greens or for plants that blossom such as tomatoes, peppers, beans, cucumbers.

Portable Farms Aquaponics Systems are designed to automatically remove the heavy fish waste in the water of the fish tanks before flooding the grow tables with fresh (waste-free) water for thirty-minutes twice per day.

The plants in the grow tables 'absorbs' the water and nutrients they require and then the grow tables drain the clean, fresh, re-oxygenated, water back into the fish tanks.

Our Fish Friendly Mineral Rock Dust has only minute amounts of aluminum compared to similar products which contain high levels of aluminum.  Aluminum can diminish root growth and healthy root structures which are vital in aquaponics' growing.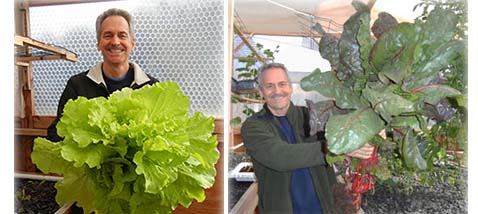 Colle Davis, Lead Inventor, Portable Farms Aquaponics Systems
The FF Mineral Rock Dust that we recommend is an amendment or addition to a system that is safe and effective to use in all types of aquaponics systems (medium base or raft systems). The pristine mineral product is Certified Organic and 100% natural. These minerals are vital to growing both green plants and blooming plants in every stage of growth: Seed planting, root development, plant growth, plant health and plant blossoming. The use of this FF Mineral Rock Dust produces plants that are healthy during every stage of growth and development. This product is also environmentally friendly and does not pollute nor does it 'burn' plants.

Below is the ordering information for FF Mineral Rock Dust.
Please note, minimal order size for shipping outside the US is 2200 lb./1000kg tote (more information below).

All orders ship from San Diego, California.