Portable Farms® – Go Solar and OFF GRID. So, Sexy.

– By Colle and Phyllis Davis
PFAS LL offers Portable Farms® Kits designed for SOLAR installations.  
The PFAS LLC Research Center installation at our headquarters in Southern Florida has operated on solar power since last August and has not missed a beat. The system is 100% solar powered and you too can have a system solar powered Portable Farms® with 12v air compressors and timers.
Full disclosure: We use a slightly modified solar electric system with a 12VDC to 110v AC converter for the large air pump because of the noise factor. We have on hand and have used a 12v air compressor for the CAD Pump and it works just fine but is much noisier than the 110VAC compressor. You have been forewarned. 🙂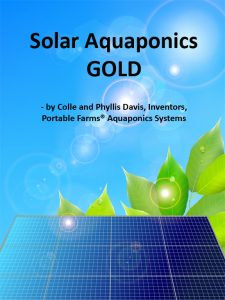 Let us show you HOW, WHY, WHAT, WHERE and HOW MUCH it costs to install your own solar powered system for YOUR aquaponics system.
The PFAS LLC Florida solar electrical system: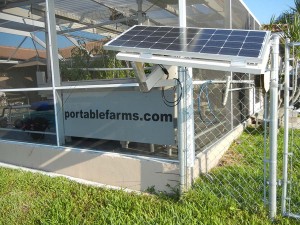 A single 100 watt panel installed next to a Portable Farms® Aquaponics System        
The increasing demand from our students in areas of the world where electrical power is erratic or non-existent has prompted us to offer the Portable Farms® Kit that is part of the Aquaponics University Portable Farms® Aquaponics Systems Course© with a 12 volt DC OPTION. The price is exactly the same as the regular 110 AC system, but we need to know when you order the AU Course or additional Portable Farms® Kits that you want the 12volt option.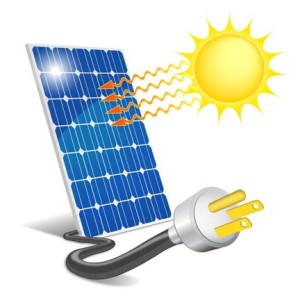 With the price of solar panels continuing to drop, the price/value proposition has swung over to favor the solar installations EVEN IF YOU HAVE GRID POWER. For example, the system in use –shown above – is a 100watt panel, MPPT controller, a 12v constantly on air pump for the air stones, a 12v timer, (here is where the difference in our system lies) a 700watt converter 12/110 to run a 110 VAC 65lmp air pump to run the CAD Pump and one deep cycle marine battery. That's it. The system is bullet proof with all the controls on a panel under the Grow Table.
What will 'going solar' do for you?
Reduce the worry of a power failure that could impact your fish.

Reduce the cost of electrical power from your house. Our system will take about 2 year to pay for itself because so little power is needed for the Portable Farms®.

Increasing the solar installation size to run Grow Lights for winter growing will quadruple the size/cost and will take about 3.5 years to pay off depending on the size of the installation.

Give you incredibly huge bragging rights.

Reduce your carbon footprint.

There you have it, PFAS LLC has made solar power components an option with their Portable Farms® Kits. If you are planning a commercial installation the needs of a 10,000 sq ft (1,000m2) climatically adapted building on solar is about the same as a small 2 bedroom house. The main difference is that the Portable Farms® uses the most electricity when the sun is shining so the battery bank can be much smaller than for a house.
To insure you receive the correct power components for your Portable Farms® Kit(s) you must notify us when you receive your Congratulations on Graduating Letter (or before) so we send you the right Portable Farms® Kit.
Begin reducing your carbon footprint and enroll in the Aquaponics University Portable Farms Aquaponics Systems Course© today and let us know when you start, that you are joining the solar revolution and want the 12volt Portable Farms® Kit for your installation.