Winter Growing in Aquaponics

– by Colle and Phyllis Davis
Yes, you can grow a variety of crops YEAR ROUND in aquaponics in acclimatized greenhouses if you install grow lights for use during winter months to extend the light of the day. In order to grow food you need six hours of direct sunlight per day or ten hours of grow lights. 
However, there is a caveat, the ambient air temperature still determines which crops are easier to grow in cold weather or hot weather. For example, It's easier to grow fragile greens in cooler weather. Let's use bib lettuce, buttercrunch lettuce or red leaf lettuce as an example. If the air temperature is too hot, those lettuces will not grow to their maximum size, in fact, they may BOLT before they have even reached their average  growth and are best grown in cooler temperatures. However, in hot seasons, there are far more heat-resistant lettuces available such as Romaine (cos).
---
Despite the fact that Portable Farms® Aquaponics Systems are 'housed' in acclimatized greenhouses and provide the ideal water temperature for growing lettuces at 78 degrees F, all seedlings and growing plants (of all varieties) still react to climatic conditions:
Air temp

erature

How air temperature effects the temperature of the gravel in the grow beds

Humidity levels

Sunlight exposure levels

Day length

Root drainage and water flow

Appropriate pH balance and appropriate nutrient levels.
In order to create maximum crop yields, careful consideration is always paramount for seed variety and selection for growing at optimal levels by experimenting with small seed batches until you find a seed that offers maximum production in your farm.
Before deciding on one particular seed or seed variety for your farm, experiment first. Since every area of the world offers a variety of seed choices in that country or region, take your time to speak with local growers and seed suppliers to see which seed will work best for you, in your climate, and then purchase a few different varieties of small packets of seeds to experiment in your aquaponics system until you find the seeds that work best for you and your family or future customers.
All varieties of lettuces grow to harvest between 40 and 75 days and most lettuce seeds available for sale have been developed for growing hearty, healthy heads of lettuce in both cool weather and hot weather conditions.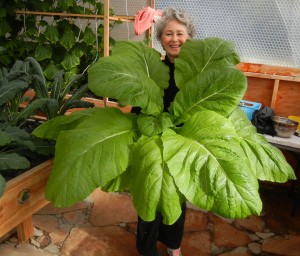 Phyllis Davis, Co-Inventor, holding ONE HEAD of India Mustard. Wow!
That will make one gigantic salad!
Cool weather lettuces we recommend
Head and Big Lettuces: Arctic King, Buttercrunch, Matchless, North Pole, and Burpee's Bibb, Red Sails, Prizehead

Romaine: Parris Island Cos (the most common)
Heat-tolerant lettuces we recommend:
Head lettuces: Gulfstream, Vista, Oak Leaf, Great Lakes, Ithaca, Gator (highly recommended by University of West Virginia). Burpee, Igloo.

Leaf Lettuces: Simpson Elite, Burpee™s Heatwave Blend, Black Seeded Simpson

Romaine Lettuces (cos): Snappy, Terrapin, Pomulus.

Red Lettuces: Redfire and Red Sails.