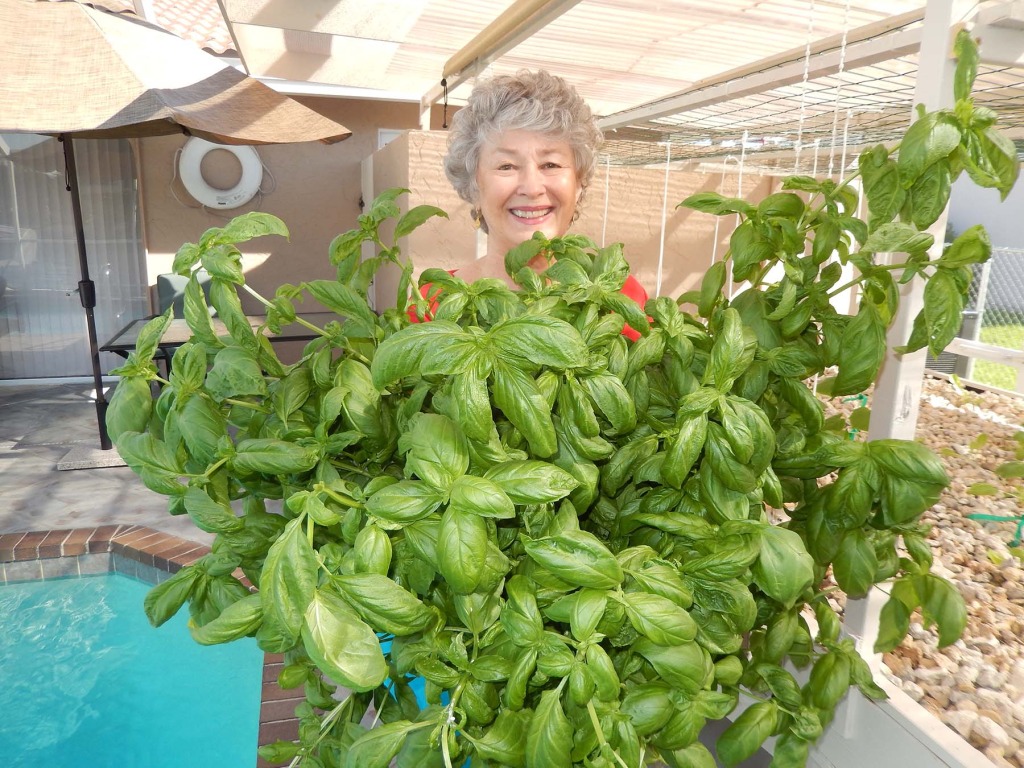 Phyllis Davis harvesting fresh delicious basil
from Portable Farms Aquaponics System
Basil – A High-Value Crop for Aquaponics
by Colle and Phyllis Davis
Basil is a high-value crop for aquaponics. It is enjoyed as a fresh-leaf herb on meats and vegetables, prepared in sauces such as pesto, or dried and used in many recipes in cultures throughout the world. Basil grows well in aquaponics systems because of the ideal growing conditions created with warm water and ample sunlight.
When basil is grown in traditional in-ground growing, it is a 'summer crop,' but when grown year round in aquaponics systems, it is considered a 'high value crop,' especially when sold locally in cold climates when basil would normally be normally be considered 'out of season.'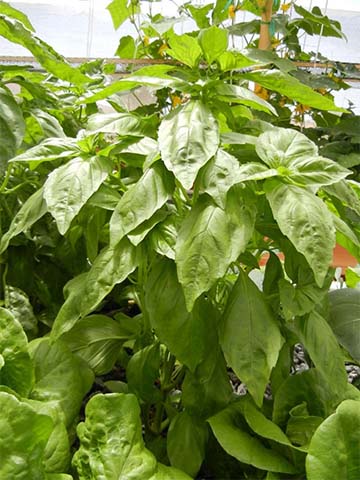 Basil growing in a  Portable Farms® Aquaponics System. These plants are 24″ tall and were grown in 55 days. Pesto anyone? Read on . . . 
The normal pH of the water in Portable Farms® Aquaponics Systems ranges from 6.5 to 7.2 for ideal growing.

Basil enjoys a very wide pH range between 5.1 (strongly acidic) and 8.5 (alkaline) with a preferred range of 5.5 (strongly acidic) to 6.5 (mildly acidic).

The roots of herbs enjoy being well-drained between watering cycles.

Portable Farms® Aquaponics Systems allow for full sun or the option of grow lights so herbs and vegetables can be grown year round which is 'out of season' in many areas and owners may collect top dollar for crops from local customers.

Basil seeds grow well in rockwool or Oasis Horticubes.

Basil plants may be placed on 8 inch centers and planted off-set in each row within a grow tray allowing for ample room for lush growth for each plant.

The root systems for basil do not spread out and are not complex root systems which makes for consistent and easy water flow throughout the grow bed during watering cycles.

The basil plant usually grows to a height of 18 to 24 inches and produces many offshoots for harvest per plant.
You can cut back basil two-thirds of the entire basil plant twice before replanting the basil to begin the process again. This extends the harvest of the basil leaves and provides more cash-value crops instead of a one-time 'grow and harvest cycle' like lettuce. Basil can also be raised in batches and sold to customers as entire plants.
Since one plant will produce for four months (after a two-month initial growth), you would only replant new basil plants every six months and be continually harvesting during each four-month harvest cycle.

Each 40′ tray will grow 450 basil plants (on 8″ centers) which allows for 900 basil plants per year grown in a single tray. These 900 plants allow two cuttings each which can be sold to local consumers at wholesale or retail prices in your area.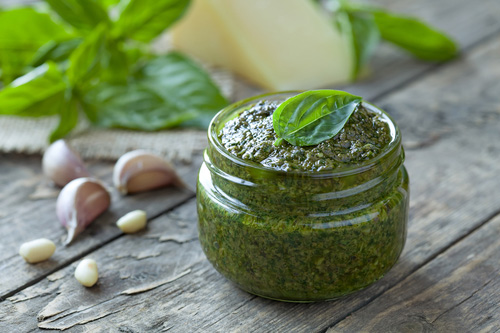 Bonus – Pesto Recipe We Use When We Harvest our own Fresh Basil
We cannot count times the many times we've invited friends to sit with us to enjoy an entire meal of fresh pesto sauce made from our own basil that was spread thick on hot homemade whole-wheat bread and served with sliced, freshly-harvested tomatoes from our own vines in our Portable Farms® Aquaponics Systems. It's a real pleasure to share healthy and simple food with friends. This is our definition of 'the good life.'
Portable Farms® Pesto Sauce – Fresh off the Vine
This recipe makes about 2 cups. If you plan to freeze the excess pesto, avoid adding the crushed garlic to the recipe and wait to add it until you thaw and serve the pesto because the garlic can taste bitter after freezing.
Ingredients List:
8 cups fresh basil leaves, torn off vine (discard the stem/vine)

1 cup freshly grated Parmesan cheese from a deli or fine store (don't use the powdered Parmesan you shake out a canister for pasta)

3 cups of pine nuts – slightly oiled and then toasted brown in an oven for 20 or 25 minutes

3 garlic cloves, crushed

¾ to 1 cup extra-virgin olive oil (depending on how thick you like your pesto sauce). If you plan to freeze your pesto for later use, do NOT add olive oil until you defrost.

1 teaspoon sea salt

½ teaspoon fresh black pepper
Directions:
Place basil, ½ of oil, cheese, pine nuts, and garlic in a food processor. Pulse several times, until well chopped.

With machine running, quickly add olive oil in a steady stream, allowing pesto to mix blend and become cohesive but don't over blend. Process until desired consistency is reached, season with salt and pepper, and serve. Again, if you plan to freeze your pesto for later use, do NOT add olive oil until you defrost.