Portable Farms® Zucchini Bread
Give homemade Zucchini Bread for gifts during the holidays. Not too sweet and it's healthy too!
There is noth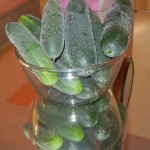 ing like home-made, home-grown zucchini bread to give away as gifts during the holiday season! While many cooks may boast they cook from scratch, we can 'trump that' and say we grew our zucchini's ourselves too in our own Portable Farms® Aquaponics Systems! In this upcoming holiday season of giving, keep life simple and give from the heart by sharing good food with people you love and respect. Our kitchen was filled with great smells yesterday as we baked and wrapped fresh bread for our friends and neighbors. The recipe is simple and fail proof. Wrap in Saran Wrap, add a bow and away you go!
Ingredients
2 cups sugar
1 cup canola oil
3 eggs
2 teaspoons pure vanilla extract
3 1/2 cups all-purpose flour
1 teaspoon salt
1 teaspoon baking soda
1/4 teaspoon baking powder
1 teaspoon ground cinnamon
1 teaspoon pumpkin pie spice
2 cups shredded zucchini (about 2 medium)
1 cup shredded carrots (I occasionally add some canned pineapple instead of carrots)
3/4 cup chopped nuts (walnut or pecan)
1 teaspoon grated lemon peel
Directions
In a large bowl, beat the sugar, oil, eggs and vanilla until well blended. Combine the flour, salt, baking soda, baking powder, pumpkin pie spice and cinnamon; stir into sugar mixture just until moistened. Stir in the zucchini, carrots nuts and lemon peel.
Move mixture into two greased 8-in. x 4-in. loaf pans. Bake at 350° for 55-65 minutes or until a toothpick inserted near the center comes out clean. Cool for 10 minutes before removing from pans to wire racks to cool completely.
Yield: 2 loaves (12 slices each).