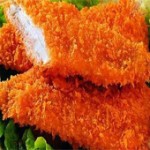 Easy Baked & Crunchy Tilapia
from Phyllis Davis' Tilapia Cookbook, Ten Tantalizing Tilapia Recipes to Titillate Your Taste Buds©
This is a super easy and healthy fish dish that is only 'drizzled' with olive oil and baked for 17 minutes. What could be easier? You can serve it with a quick cabbage salad and boiled new potatoes and viola! You'll have a freshly prepared meal in a matter of minutes. And if you own your own Portable Farms® Aquaponics System, you'll have an endless supply of fresh, home-grown tilapia!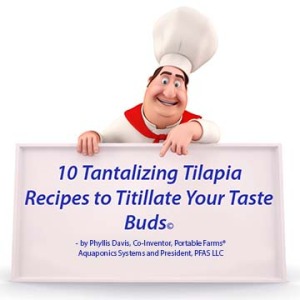 Enjoy Tilapia as a Low Calorie, Low Fat, High Protein Alternative to a Skinless Chicken Breast

* 4 oz Tilapia fillet – 105 calories, 1 gram fat, 23 grams protein

* 4 oz skinless chicken breast – 140 calories, 2 grams fat, 33 grams protein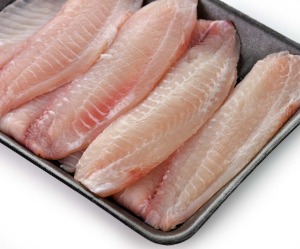 INGREDIENTS:
4  (4 ounce) Tilapia fillets cut into 2 or 3 inch strips each (One tilapia generally produces two 4 oz fillets)
1 Cup oat-bran cereal (even cornflakes will work)
1 Teaspoon fresh or dried basil leaves
¼ Teaspoon salt
¼ Teaspoon Pepper
¼ Cup milk (skim or whole)
3 Tablespoons olive oil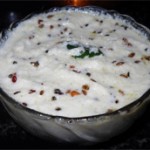 Secret Tilapia Chutney that WOW's 'Em every time
Ingredients:
1/3 Cup sour cream
1 Teaspoon crushed or creamy horseradish (or more to taste)
3 Tablespoons of freshly chopped cilantro
3 Tablespoons of any mixture of the following choices (use a food processor if you have one): crushed cashew nuts, chopped red or green bell pepper, sliced olives, chopped onion, grated carrots, or chopped broccoli. (optional) Lemon or lime juice.
If you want to spice it up, add a dash of cayenne pepper or a dash of Tabasco or Cholula Sauce.
Directions:
Preheat oven to 400 degrees.
Grease or spray a medium sized baking pan.
Crush cereal in a small bag with a rolling pin or mix in a food processor.
In one mixing bowl, mix cereal, salt, and pepper.
Cut Tilapia fillets into 2 to 3 inch strips.
In another mixing bowl, pour in milk then dip each of your Tilapia fillets into the milk.
Move the moist Tilapia fillets from the milk into the mixing bowl with the cereal, salt and pepper and bread both sides of the fish.
Place your breaded Tilapia fillets into the baking pan and drizzle olive oil evenly over the Tilapia strips.
Bake uncovered 15 to 17 minutes until the fish flakes easily with a fork.
While fish is baking, mix and blend all ingredients for the Secret Tilapia Chutney in a small bowl, and when you serve the fish, serve the chutney on the side of the fish on each plate with a lemon wedge.
Serve your Crunchy Tilapia with pinto beans, boiled new potatoes, Hush Puppies or corn bread, and lemon or coconut meringue pie for dessert. Serves 4
---