Healthy Recipe for Thanksgiving #1 – Roasted Vegetables
– by Colle and Phyllis Davis and damndelicious.net
If you haven't roasted vegetables before, you are IN FOR A TREAT. We roast them often and enjoy chopping up a sweet potato and throwing in a big handful of freshly chopped ginger and garlic for a pop of extra flavor. Just remember to massage the vegetables in a big bowl before putting them in the baking pan to coat everything with oil and spices.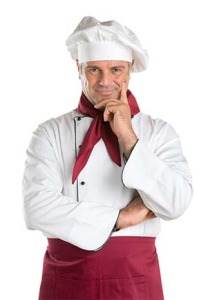 Yes, there are alternatives to serving an over-carbohydrated Thanksgiving meal that make you feel sick after indulging in potatoes, sugar and starch.
Here are some of the suggestions other chefs have provided that we're trying this year ourselves. And, as you can imagine, we'll provide as many of the freshly harvested vegetables as possible from our own Portable Farms® Aquaponics Systems. As you know, our farms don't grow 'root vegetables' such as onions, leeks, potatoes, carrots, etc., but they are all readily available at our local farmer's market where we shop on Saturday mornings (after yoga) :).
While you consider your options for a healthy (even vegan) Thanksgiving meal, take advantage of the fall bounty from locally grown food within 100 miles of your home and support your local farmers by buying from them. Again, farmer's markets are an ideal time and place to talk to local farmers who are selling their food and find out what other foods they raise so you can plan to buy from them instead of buying foods from major supermarket chains because you may not know where that food was raised, how it was raised and how far it was shipped before you purchased it.
ROASTED VEGETABLES – BROUGHT TO YOU BY damndelicious.net
Prep Time – 5 minutes
Cook Time – 15 minutes
Total Time – 20 minutes
Yield – 4 servings
The easiest, simplest, and BEST way to roast vegetables – perfectly tender and packed with so much flavor!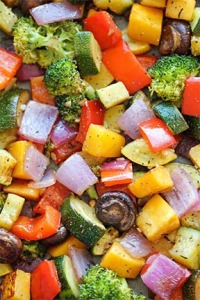 INGREDIENTS
2 cup broccoli florets
2 cups cremini mushrooms
2 cups chopped butternut squash
1 zucchini, sliced and quartered
1 yellow squash, sliced and quartered
1 red bell pepper, chopped
1 red onion, chopped
2 tablespoons olive oil
2 tablespoons balsamic vinegar, or more, to taste
4 cloves garlic, minced
1 1/2 teaspoons dried thyme
Kosher salt and freshly ground black pepper, to taste
INSTRUCTIONS
Preheat oven to 425 degrees F. Lightly oil a baking sheet or coat with nonstick spray.
Place broccoli florets, mushrooms, butternut squash, zucchini, squash, bell pepper and onion in a single layer onto the prepared baking sheet. Add olive oil, balsamic vinegar, garlic and thyme; season with salt and pepper, to taste. Gently toss to combine.
Place into oven and bake for 12-15 minutes, or until tender.*
Serve immediately.
*Baking time may need to be adjusted depending on the thickness of the vegetables.