Repurposing the Boomers with Boomer Inc. Food Company (BIFC)
Seniors enjoy gardening and aquaponics creates sustainability in their community! 
– by Colle and Phyllis Davis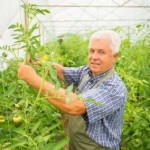 AQUAPONICS TO THE RESCUE. Most Baby Boomers enjoy gardening.
Many of us spent time on our grandparents farms during our childhoods and today, there is a major resurgence in back yard gardens today, but problems arise for Boomers are unable to stoop, bend or till soil.  Aquaponics is a great way to re-purpose an entire generation. The idea could even spread to other parts of the world and maybe all seniors and all people of any age or educational demographic could be seen as productive members of any society and all because of Portable Farms® Aquaponics Systems.
Are the 77.5 million Baby Boomers going gently into that dark night? It does not appear that way. In fact 'we' are sliding out the US workplace into retirement at around 64 years of age and starting new careers.
According to About.com, senior's deepest fears might surprise you: "The unpredictable cost of illness and healthcare is by far baby boomers' biggest fear. They are three times more worried about a major illness (48%), their ability to pay for healthcare (53%) or winding up in a nursing home (48%), than about dying (17%)."
The Boomers are the largest group ever to reach retirement age and are now starting to do just that, retire. But, a very large percentage of these so called 'Boomers' are not prepared for retirement and are going to need help in their golden years.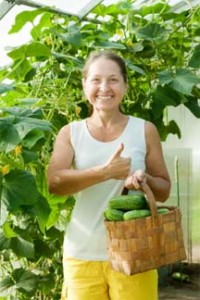 10,000 baby boomers a day turn 65. Boomers are the best educated generation in history, we have had the most freedom and the most fun of any generation in history, we/are also one of the most creative generations in history (Internet and technology, science and medical contributions, transportation and distribution advantages), we are also in charge of building a large part of the world we live in today, but we have also suffered under the delusion that we would always be young, healthy and have unlimited energy forever. Silly people.
Time is finally getting to those of us in the Boomer demographic (those born between the years 1946 and 1964). We are getting older, our health is not as stable as it was and Boomers are looking for ways to reinvent themselves to stay busy and make a difference. After all, this talented group does have a huge reservoir of talents, skills, knowledge and contacts that society could use if only there was a way to harness their interests and they could profit from their efforts.
As Boomers lead quieter lives as they move into a 'less productive' stage in their lives, they still have valuable contributions to make to society in productive ways. They can form groups within compounds, er . . . retirement homes, and work together (which offers social interactions) to raise their own food and sell the surplus to pay for their room and board. After all, most Baby Boomers have had childhood experiences on a family or relative's farm and we remember what 'real food' tasted like when it was harvested fresh and full of nutrients, so 'fresh healthy food' is a commonality among us.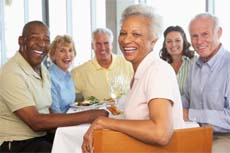 The technology exists today (Portable Farms® Aquaponics Systems) that can help the residents become very productive at raising their own food. These aquaponics systems are very easy to operate, mostly harvesting and planting at 'waist high' Grow Tables and a few of the younger and more active people in the group could be in charge of the regular maintenance routines of the equipment (a few minutes a day, at most). The Grow Tables and can be adapted even to those with disabilities or require wheel chair access.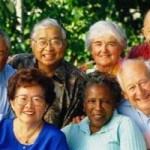 Many of the Boomers actually want to be productive and contribute and not rely on their families or society to take care of them. They can be the first residents at the new proposed idea for a Boomer Inc. Food Company (BIFC) installation. Yes, the housing needs to be nice, airy, clean and there needs to be some game rooms, a beautiful cafeteria, on site nursing and medical care, and even some guest rooms for family visits, but the cost can be recouped by the residents work in the BIFC farms. 
With each quarter acre installation at a BIFC, it can feed 240 people and with some ancillary production facilities for chickens, maybe pigs, some areas to grow roots and tuber they can become self sufficient and can even help cover the cost of the room and board for the resident as they make money for the company. 
A commercial size 1/4 acre Portable Farm requires two full time operators to run the farm = 80 hours per week. With a 30 person facility for seniors, and only half of them working on the farm, this requires less than three hours per week for each worker to pay their room and board and the food feeds the entire group, and all the leftover food can be sold into the local market as fresh, locally grown food. If this doesn't impress you then nothing will. This innovative approach to food production by harnessing the skills, talents and ability of entire generation guarantees their livelihood and the viability of their community.
---
Read Five New Ebooks About Aquaponics-Related Topics
Written by Colle and Phyllis Davis, Inventors, Portable Farms® Aquaponics Systems and Published in 2015
For more detailed information about these books: CLICK HERE.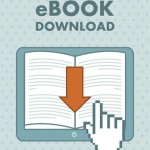 Listen to an important message from Colle Davis, Lead Inventor, Portable Farms® Aquaponics Systems

 Listen to Phyllis Davis tell you about AQUAPONICS GOLD.

An overview for those considering the option of installing an aquaponics system near their home.

This ebook discloses the facts, figures and formulas necessary for successful greenhouse and warehouse aquaponics growing. 

Let us show you HOW, WHY, WHAT, WHERE and HOW MUCH it costs to install your own solar powered system for YOUR aquaponics system.