Distributorships and Dealerships for Portable Farms® Aquaponics Systems (PFAS) 
Please read the article on Distributorships Available FIRST.

Distributorships and dealership opportunities are now available for Portable Farms® Aquaponics Systems.
The minimum investment to secure a Territorial PFAS Technology License and build the minimum number of commercial installation in that territory is approximately US$1.2Million.
The best part of this investment is that you can recoup ALL of your money in less than two years IF you sell and install only 6 commercial PFAS installations (1/4 acre) per year or one commercial installation every two months.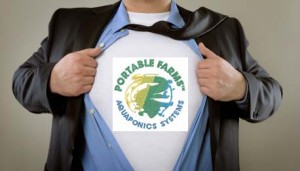 Secondarily, you do not have to train your operators; Aquaponics University does that for you. So your company can focus on marketing, selling and installing the commercial PFAS Units as fast as you possibly can to make more money. This scenario entails having one commercial (1/4 acre) installation that your organization actually operates and sells the production to the local markets as a showcase installation.
The six basic requirements to be considered for Distributorships and Dealerships for Portable Farms® Aquaponics Systems (PFAS)
A marketing arm of your company that can develop and maintain relationships with the chefs and food buyers at high-end restaurants, casinos, resort hotels, institutions and other food serving establishments catering to a clientele who can afford and will buy the finest locally grown, pesticide free food in the world. Typically, these markets are within 100 miles of the location of the PFAS.
A construction company or component of your organization that can design, prepare the (land) site and build climatically adapted structures or convert existing structures for the PFAS installations. The largest moneymaker for a License Holder is the actual construction and building of the PFAS installations for other people/investors.
Enough money, or access to enough money (think in the US$1million range) to purchase the Territorial PFAS Technology License, build four PFAS commercial installations and still pay for everything the first year. The income from the initial installation will begin in as few as 5 weeks (early 28 day harvests of some vegetables) after completion and will increase every month over the next several years.
Past experience in owning and operating a business with five or more employees. Not critical, but incredibly useful in becoming successful in aquaponics.
An understanding that PFAS LLC requires payment for the technology, training and onsite consulting be paid in advance of scheduling the shipment of the PFAS Kits. The arrangements made to build the climatically adapted structure will be between your company and the manufacturer/builder of the building not PFAS LLC.
A passion for success in this new venture. If you have a passion that shows up in the successes achieved in your recent past, we want to talk to you about your commitment to the PFAS in your area.
8 Steps for Getting Started as a Distributor/Dealer with Portable Farms® Aquaponics Systems
Answer these 6 question with complete sentences and send the answers to us.Six Questions:1. What size project is your group planning to build? ¼ acre? 1 acre? Etc.2. What state or country is your project targeted for installation? Please be specific.3. What is your projected time frame to begin your project? 90 days? One year? Etc.4. Have you and your company ever operated a successful business for over four years?5. Do you or your company have access to the funding required for this project? If not, do you have a target date for that available funding for the project?6. Have you explored the marketing study for selling the food Portable Farms® is capable of  growing?  Please include the following information in your email also:Your name:Company Name:

Company Website:

Home or Company Street Address: City, State, Country, Zip:

Email Address:

Best phone number to reach you:
Request the 5 Phases information with your (above) six answers to continue the process. If you think you can short circuit the process by requesting the 5 Phases first, you will be redirected to the 6 questions to answer.
Request the Territorial PFAS Technology Licensing Fact Sheet.
Complete the marketing study to plan 'how much of which vegetable's your market will buy.
Request a Mutual Non-Disclosure Agreement for your company to complete and return so we can send you an Executive Summary.
Bring your banker/investor/money manager up to speed on all of the information you have received from PFAS LLC so they are ready to fund your project immediately.
Enroll in the Aquaponics University Portable Farms® Aquaponics Systems Course© and complete the Course so you will have a deep understanding of what is involved in building and operating of PFAS. The tuition will be refunded in full payment of the Territorial PFAS Technology License.
Prepare to build a pilot project. If your project is of multi acres, then a one acre or even a quarter acre pilot project is recommended to get your hands wet, or the hands of your operators wet, and it will bring your staff up to speed very quickly. If your project is a single 10,000 sq ft. (1,000m2) then we advise you build a single Module setup to learn the technology.
Now the restrictions:
A License Holder may NOT teach the PFAS Technology to others. PFAS LLC's Aquaponics University trains ALL Operators worldwide based on the number of PFAS Kits purchased. Our technology is copyrighted, trademarked and our information is protected with a utility patent application with the US Patent and Trademark Office and may NOT be taught outside of Aquaponics University under any conditions.
A minimum number of commercial installations must be built each year to maintain the Territorial PFAS Technology License and keep it in good standing. Two years of under-performance and the Territorial PFAS Technology License for that territory will revert and be available for sale again.
Start today and in as little of three months you can realize an income from your installation(s). The process is laid out here is to help insure your success but you have to follow the process outlined above to demonstrate that you can actually follow directions and are able to be a success.