Solar Aquaponics 
By Colle and Phyllis Davis

Welcome to the world of telling the people who think they run the world, or at least the local fiefdom trolls to 'go hang it up'.  By installing your own home aquaponics system powered by solar energy you get as close to being self-sufficient as one can get in this day and age, EVEN IF YOU LIVE IN A CITY.
The components for a modern solar powered aquaponics system are very straightforward, readily available, easy to assemble, fun to work with and the resulting installation will raise prodigious amounts of food. Solar installations are now so common that no one actually 'sees' them anymore. Besides they are relatively easy to hide. Aquaponics is one of the fastest growing segments of farming and is acceptable and 'becoming normal' as a way to produce the best food on the planet.
Living in the United States, most think that there is no such thing as 'food insecurity' and that life is a banquet for 'all you can eat.' After all, the US has one of the best distribution networks for transporting fresh food in the world, but much of our rich farming community that produces much of the nation's fruits, nuts and vegetables has suffered horribly with record-setting drought conditions the last few years. The horrific drought in California as caused over $2 billion in crop failures and agricultural damage. Much of the water used in growing vegetables has been diverted to save the almond trees.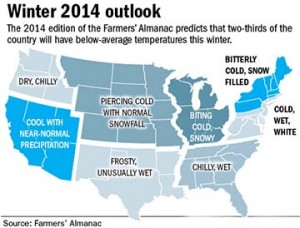 This leads one to question the food security for colder regions of the US in the upcoming winter months for 2014 – 2015. What will the price be for a fresh tomato in New York City in February 2015? Or a fresh head of lettuce in Chicago? Or a green pepper in Kansas City? Or a sprig of fragrant basil in Detroit? Yes, most of this food will be grown hydroponically and then shipped to consumers (. . .  think food grown in water and chemicals with little nutrient content or taste) in regions from Canada to Mexico and harvested early and shipped thousands of miles to local markets and restaurants.
Food Miles is a term that determines how far your food has traveled before it reaches you, the consumer. The Worldwatch Institute states that for most Americans, food travels 1,500 miles before it reaches the consumer.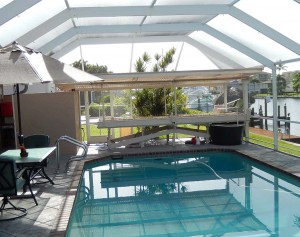 As the inventors of Portable Farms® Aquaponics Systems, we watch the world from a different perspective because we are able to enjoy fresh vegetables 12 months a year that we grow ourselves. We eat food that is harvested and consumed on the day it is ripe. And now, with the introduction of solar panels to our Portable Farms®, we are OFF GRID and enjoying the freedom associated with no electrical bills.  We will enjoy the best food in the world for the rest of their lives and if anything does happen, as in 'go wrong', it will not impact us, or our customers' ability to feed themselves.
Here are some more advantages of solar aquaponics:
The food is only steps from the kitchen and the only real work is plant, harvest, feed fish
The investment pays for itself relatively quickly
The installation is easy to build and operate
Nearly all of the replacement parts, if needed, are readily available
Components have very long MTBF (mean time between failures) – they last a LONG TIME
You do not have to tell your neighbors. Occasionally you could give them a green bean or two to brag on, but that's up to you.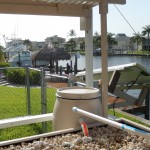 Here is an odd side note, it would be nearly impossible to confiscate the installation because each farm is built as 'site specific' AND the gravel is HEAVY and does not travel well. The most that thieves could do is to steal your fish and vegetables that were harvestable at that moment. Then when they leave, you simply replant, restock and keep going.
The solar energy can even be used to temper the water in cold climates. The Sun is our friend, use that warm glow to grow and be prosperous. Team the sun up with one of the most advanced aquaponics systems in the world and become 'off grid' and more independent in a matter of weeks.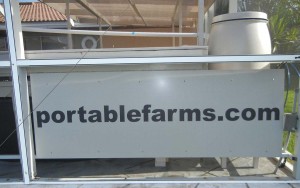 Our NEW solar installation for our new Portable Farms® Aquaponics Systems Experimental and Research Center is located on the lanai (screened in porch) of our home in Southern Florida. We live on a 200′ wide canal that leads to the Gulf of Mexico and the Atlantic Ocean. Each day during winter months hundreds of 'sea worthy' yachts and pleasure boats pass by our back door and see our Portable Farms® Aquaponics Systems.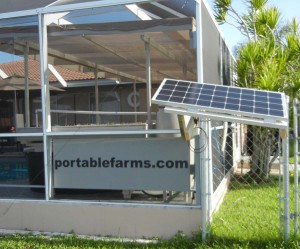 We have listed our suppliers so you can see exactly what you will need to make a duplicate of the PFAS LLC solar installation:
100 watt Solar Panel Kit
– larger than needed. A 40 to 50 watt would have been enough
MPPT Controller
– we upgraded the above kit
Deep cycle 12 volt marine battery – Go larger than you think necessary
Small air pump
for air stones – 12 volt air compressors are much more common now
Larger air pump for CAD Pump
– toughest to find, now have a supplier
Timer for CAD Pump
– oddly enough, a not as easy to find component
Inverter
for lights or tools – Just get one so you have it, they're cheap.
The total system, including mistakes and replacement parts was about US$500 and you could certainly set up a system for significantly less to use in your own solar aquaponics installation.
Side note: One of our suppliers for overseas installations noted that he is now selling thousands of the small 12v air compressors to people/companies in the US. This is a huge increase in volume to the US in the last year. More and more people are beginning to see the cold light of reality shining on the fact that life as we know it needs to be solar powered, no matter what the government says.