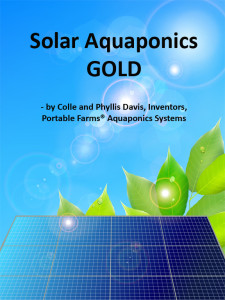 Solar Aquaponics GOLD © 
-written by Colle and Phyllis Davis
Published by Concept to Licensing, LLC – August 1, 2015
ORDER YOUR EBOOK TODAY: $14.95: CLICK HERE.
Table of Contents
CHAPTER 1: The Value of Solar Power
CHAPTER 2: State of the Art Solar Aquaponics System in Southern Florida
CHAPTER 3: What Will 'Going Solar' do for you?
CHAPTER 5: Maximizing the Resources of the Solar Powered Aquaponics Systems
CHAPTER 6: Grow Food in Cities – Urban Agriculture
CHAPTER 7: Survival Farms and Gardens
Let us show you

HOW, WHY, WHAT, WHERE 

and

HOW MUCH

it costs to install your own solar powered system for YOUR aquaponics system.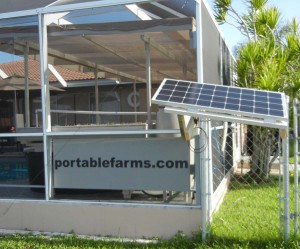 A single 100 watt panel for a Portable Farms® Aquaponics System capable of feeding four people. This new Portable Farms® Aquaponics System has one grow tray that is 6'x16' (96 sq ft of grow space) which is capable of feeing four people FOREVER.
What Will 'Going Solar' do for you?
• Reduce the worry of a power failure that could impact your fish.
• Reduce the cost of electrical power from your house. Our system will take about 2 years to pay for itself because so little power is needed for the Portable Farms®.
• Increasing the solar installation size to run Grow Lights for winter growing will quadruple the size/cost and will take about 3.5 years to pay off depending on the size of the installation.
• Give you well-earned bragging rights.
• Reduce your carbon footprint.
The increasing demand from our students in areas of the world where electrical power is erratic or non-existent has prompted us to offer the Portable Farms® Kit that is part of the Aquaponics University Portable Farms® Aquaponics Systems Course© with a 12 volt DC OPTION. The price is exactly the same as the regular 110 AC system, but we need to know when you order the AU Course or additional Portable Farms® Kits that you want the 12volt option.
The purpose of this ebook is to explain some basic information regarding the application of solar power with aquaponics.
Aside from introducing a simple and easy way to understand and install solar components for an aquaponics system, our secondary goal in this book is to explain the various aspects of gravel- based aquaponics in backyard growing, commercial aquaponics, aquaponics in climates and in urban settings.
Since we are the inventors of Portable Farms® Aquaponics Systems, our entire knowledge base regarding aquaponics focuses on what we know which is growing food in our own gravel-medium-based aquaponics systems that have now been installed in almost all 50 states in the US, 10 Canadian Provinces and 16 countries. If you are interested in raft aquaponics, you can still use this information regarding solar power for your system.
ORDER YOUR EBOOK TODAY: $14.95: CLICK HERE.