Lanai Aquaponics in Florida
or Other Tropical Climates Or Solar aquaponics in a screen house/enclosure (tropics only)
- by Colle and Phyllis Davis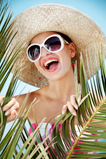 The definition of lanai, for those of you who do not live in the tropics or in Hawaii:
noun, plural lanais. Hawaiian. (Dictionary.com)
a veranda, especially a fully furnished one used as a living room.
In Florida they are very large screened structure usually covering a swimming pool and are an extended living space for part of the year when it is not so hot
The lanai is designed to keep out bugs, birds or other pests. They do not stop the rain. The do slow the wind down a bit and they keep the leaves, falling coconuts and palm fronds out of the swimming pool. They also keep other flying or crawling animals or bugs (think lizards) out of the pool and away from those of us sitting on our lanais and watching the beautiful tropical sunrises or sunsets.
What does the topic of a lanai have to do with aquaponics?
It turns out that in the warm and lush tropics, lanai territory, you do not need a greenhouse for having a year round aquaponics system.
The requirements for a successful lanai aquaponics installation in the tropics are:
the air/ambient temperatures need to be kept between 50° and 104° F (10 to 40° C) so lanai aquaponics will only work in tropical areas that never have freezing temperatures
an adequately screened lanai to keep the bugs out
a sunscreen installed above the Grow Tables to filter the intense sun from burning the plants
a method for keeping the rain off of the Grow Tables to avoid the Fish Tanks from overflowing and washing in dust and insect eggs.
The new Lanai/Tropics Aquaponics System from PFAS LLC accomplished exactly that and no more. In many instances the lanai is already there and has been for years. Building 25 sq ft (2.3m2) of Grow Table space per adult in the household is now so straightforward and easy that in does not make sense not to put an aquaponics installation in your lanai.
Here is an example of a lanai aquaponics system installed in Southwestern Florida: It is the one in our lanai.
List of benefits of the Lanai Aquaponics System:
Very little cost for enclosure – probably already in place
Usually more aisle room that in a greenhouse
Adds beauty to your lanai space
The best food in the world only steps from your kitchen
Local contractor or handyman can build the Grow Table/Module for you
Keeps the space slightly cooler because of the shading and the water
Great conversation piece
Talking to a local builder another interesting piece of information on local codes covering the lanai emerged. Everything inside a lanai is classified as furniture or furnishings so there are no restrictions after the lanai is built as to what you build inside of it. This makes for a weird and legal possibility. Picture this: Build a large lanai, install one, two or more Portable Farms® Aquaponics Systems using the Lanai Aquaponics design and have a commercial aquaponics installation that meets local codes and much less expensive that a greenhouse!
The solar power system required in the lanai system is much smaller than in the more severe climates because the only electrical components are the small air pump, the larger air pump and occasionally the tank heaters and perhaps a light for 'oohing and aahing' after dark. This means that a 50 to 100watt panel and controls will operate two full size commercial PFAS Modules very easily. Here again, the cost is much lower than in colder climates where the electrical requirements include vent openings, circulation fans and supplemental lighting. The tropics Rock.