Growing Food Year Round in Aquaponics
– by Colle and Phyllis Davis
Portable Farms® Aquaponics Systems training and technology IS NOT EXPENSIVE.
This 16′ x 33′ greenhouse contains 3 modules of Portable Farms® Aquaponics Systems and feeds 10 people FOREVER.
In fact, PFAS LLC's portion of aquaponics is the LEAST expensive component for installing an aquaponics system. PFAS LLC receives less than 25% of the total investment to install an aquaponics system. The MAJOR UPFRONT COST for aquaponics is spent to build an acclimatized greenhouse for the aquaponics system that allows for year round growing to moderate the temperature and as a protection from weather for the food and fish as well as protection from bugs, birds and other predators.
While 'high tech' hyrdoponic growing is gaining in popularity in areas of the world with food grown with chemicals and LED lights and germ & bacteria- free environments, they are extremely expensive and really, when you think about it, do you really want to eat tasteless food that is so far removed from any form of nature or natural growing? Well, maybe for lettuce. After all, lettuce is generally served with OTHER foods that are grown in nature and we don't rely on lettuce for high-levels of nutrient content or eating satisfaction.
However, aquaponics is closer to 'nature' than hydroponics and the food has rich flavor and comparable nutrient content similar to traditional garden (think dirt) crops. EXCEPT, aquaponics does not require pesticides or harsh chemicals to grow healthy food and requires 95% less water than traditional agriculture.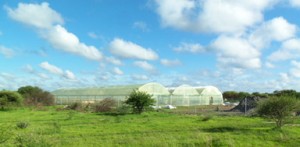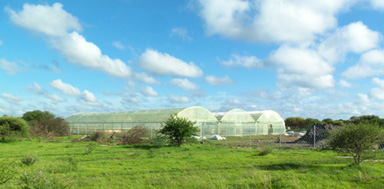 A 10,000 sq ft greenhouse with Portable Farms Aquaponics Systems installed. Location: Botswana Africa.
Controlled environment growing is very quickly becoming the state-of-the-art production because of the multitude of advantages. These include:
Extended growing season – often year round
Greatly reduced consumption of water even with in-ground growing methods
Less expensive and more accurate pest control – often pests are eliminated as a problem
Growing is placed much nearer to markets in many cases
Less chance for crop losses due to weather, pests, water loss and theft
More efficient use of fertilizers and nutrients used for maximum production
Custom and high-value crops easier to grow for local markets.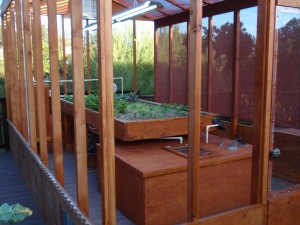 The Portable Farms® Aquaponics Systems actually deliver a slight excess of everything the plants need, even the light, so every plant always have the perfect conditions for maximum growth and has other advantages:
No pesticides are ever used
Less water use than any other type of commercial growing system available today
The waste water is a valuable fertilizer that can be used on other crops or sold at a profit
Waist high work area
No single point of failure
No weeding – ever
Watering is automatic
No soil or dirt inside the building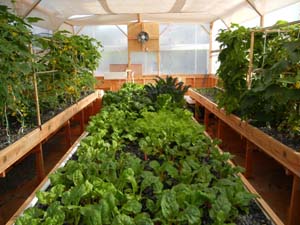 For maximum production/yield, PFAS LLC recommends the following ENHANCEMENTS to a regular PFAS installation:
The addition of micro-nutrients that include  iron, magnesium, calcium and potassium and 53 other vital minerals are supplied with organic FF-Mineral Rock Dust
High performance greenhouse coverings that protect from weather extremes.
Insulation of all walls and roof that do not contribute direct sunlight to the grow trays
Grow lights capable of providing maximum full spectrum lighting for both greens and blooming plants.
Inert growing medium for planting seeds
Trellis installation for maximum vertical growing for blooming plants
Full monitoring system of all functions within the building that notify operator of any necessary adjustments required
Low cost fish tank heaters
Automatic water leveling system for fish tanks.
These controlled-environments-precision-growing-systems are capital intensive on the front end, but they produce income very quickly and continue to produce income over long periods of time with only operational expenses needing to be covered.
---
Read Five New Ebooks About Aquaponics-Related Topics
Written by Colle and Phyllis Davis, Inventors, Portable Farms® Aquaponics Systems and Published in 2015
For more detailed information about these books: CLICK HERE.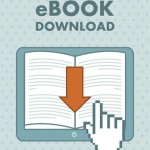 Listen to an important message from Colle Davis, Lead Inventor, Portable Farms® Aquaponics Systems

 Listen to Phyllis Davis tell you about AQUAPONICS GOLD.

An overview for those considering the option of installing an aquaponics system near their home.

This ebook discloses the facts, figures and formulas necessary for successful greenhouse and warehouse aquaponics growing. 

Let us show you HOW, WHY, WHAT, WHERE and HOW MUCH it costs to install your own solar powered system for YOUR aquaponics system.