Portable Farms® Aquaponics Systems are high intensity food production systems that produce prodigious amounts of food year round in any climate.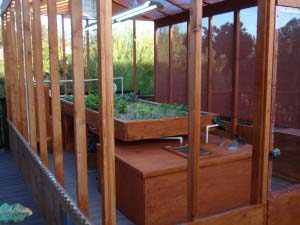 Here is a small grow table of a Portable Farms Aquaponics System that feeds two people.
Here is the formula for correctly sizing your backyard aquaponics system: In a highly effective system with gravel as the medium base, a tray space of 25 to 30 sq. ft. will feed one adult their table vegetables year round – FOREVER.
Use the number of people you want to feed times (x) the 25 sq. ft. required for each person and the resulting figure will be the size of grow tray space you will need.
Example 1: You have four people in the house (any child over the age of 11 eats like an adult) times 25 sq. ft. equals 100 sq. ft. of grow tray space. A grow tray that measure 5 ft. x 20 ft. long (6 ft. x 16 ft.) will be the perfect size. This size tray will fit comfortably inside a 10 x 24 ft. (or a 12 x 20 ft.) greenhouse.
Example 2: There are 8 people you wish to feed. 8 people x 25 sq. ft. per person equals – 200 sq. ft. The formula of number of people times the 25 sq. ft. required to feed them can be applied no matter what the number of people you want to feed. A commercial installation with 10,000 sq. feet of enclosed space provides 6,000 sq. ft. of grow space and will feed 240 people.2. Find the ideal location in your backyard for your Portable Farms® Aquaponics System that has at least six hours of direct sunlight available in the chosen location. If you don't have an area to receive 6 hours of sunlight, you must supplement the lighting to provide your vegetables with grow lights. Or, can you use an existing building, or extend an existing building to save money and reduce the carbon footprint?
Example 3. Explore the materials that are required for the grow trays and other items that are required for your system to operate at its peak. We supply this list of materials in our course Portable Farms® Aquaponics Systems Course©.
Example 4. Learn the actual operation of your new aquaponics installation regarding ways you can be assured that you will be operating it effectively and not kill fish or plants.