Building an Attached Greenhouse Aquaponic System
By Colle and Phyllis Davis
More and more people are contacting us regarding year-round aquaponics gardening in a lean-to greenhouse built next to their house.
The ideal location to for your aquaponics installation may or may not be where you want to build it. We do not recommend areas that are shaded or in driveways or next to tall fences. Here is a list of requirements and suggestions for maximizing the location of your aquaponics system, so it receives the maximum level of sunlight to grow your food.
Here is a short list of considerations and suggestions to help you create an ideal place to install your greenhouse and build your aquaponics system inside that greenhouse.
Find a place that provides your greenhouse six to seven hours of direct sunlight each day that shines directly over your Grow Table.

The greenhouse should be orientated to maximize the sunlight and to minimize cold infiltration.

Your greenhouse must have access to water and power.

There must be proper floor drainage inside the greenhouse to keep floor dry.

If possible, place your greenhouse on a concrete floor.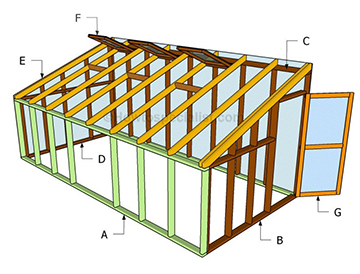 FREE DO IT YOURSELF PLAN: How to build a lean-to greenhouse
(*Link to this website at the bottom of this page. This website offers step-by-step instructions with great graphics that are easy to follow.)
Another possibility is to build a greenhouse along the side of your house or garage. We recommend consulting someone with an understanding of moisture flow before building a greenhouse attached to your house.
The requirements of an attached greenhouse need to have the following considerations to be effective:
The greenhouse should have a south or southwest exposure.

There should be no trees or large shrubbery nearby.

It must have good drainage within the greenhouse. This is vital.

While building your greenhouse, build a stem wall (short concrete or insulated wall on the wall of the greenhouse).

Build your greenhouse on a concrete slab.

Optional: Consider venting the greenhouse into your house in the winter as an inexpensive and pleasant addition to the air inside both the house and the greenhouse. The added moisture is welcomed but needs to be monitored to insure it does not promote mold. Venting the greenhouse into the house demands you keep your fish tanks and clarifiers clean to avoid a gamey smell.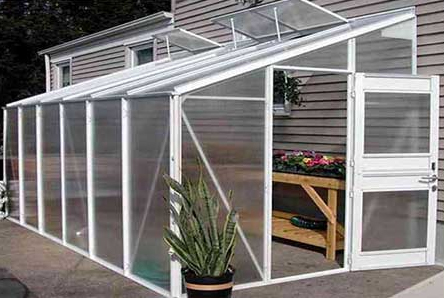 Aluminum Lean-to Greenhouse kits – Top-quality Gable style greenhouse for the serious gardener, clubs, schools or any group that requires a larger growing area. Complete your greenhouse with our Greenhouse Equipment Kit.  (*Link to the Gothic Arc Greenhouse's website at the bottom of this page.)
Additional advantages of building mounted greenhouses next to your house or garage:
They require less insulation.

They are much easier to build than a traditional greenhouse.

They are faster to build.

You will get your aquaponics system up and running sooner.

By building a door between the house and the greenhouse, you can have access in-and-out of the greenhouse.

With an access door, you don't have to go outside in extreme weather conditions.
Now, here are the disadvantages:
Noise. The air pump can be noisy and may to be need to be installed in an enclosed box to quiet the sound.

The fish waste can smell bad or at least be noticeable when being removed from the settling tank. This may or may not be a problem.

There needs to be two separate exhaust fans. One fan for winter that blows into the house and the other to exhaust to the outside in summer.

The height of the lean-to greenhouse may not be tall enough for good circulation and shading.

Supplemental lighting will (most likely) be necessary in any kind of growing structure.
In most cases the advantages far out-weigh the disadvantages, however, please take the time to consult family members to get their input before proceeding.
The ideal situation includes:
A door (it may already be there) between the house and the greenhouse.

Water and power must be available without running new pipes or lines.

If possible, install your greenhouse in front of a large window to the house so you can admire your garden. Plan on installing the door and window (if they are not there) for best results.
Having the aquaponics system next to the house is smart, convenient, and creates both a unique awareness of growing things and a fabulous place to chill out. Spending quiet moments inside in a warm, moist greenhouse in cold weather is a perfect way to beat the winter blues.
If you have questions of how to build the aquaponics systems, please read the curriculum for Aquaponics University and sign up for the course. We will help you size your installation.