It's the Fish, Not the Fish Oil
– by Colle and Phyllis Davis

What does omega-3 do for you? As it turns out, not very much. As a matter of fact it is not the omega 3 that is the health factor that it has been touted, it is eating more fish that achieved the wonderful health benefits. At PFAS LLC, we hear the question, "The tilapia you use in your farms don't have omega 3 and they have unhealthy levels of omega 6 in them. And, we do our best to put on our Patient Hat and reply, "Neither of these myths are true."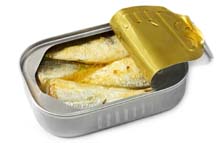 In the past, we have carefully explained to people concerned about the omega oil problem that they are eating the fish produced in the system for the protein, and not the oil. If you are worried about getting enough Omega 3, we recommend fish that are high in Omega-3 fatty acids such as sardines, salmon, mackerel, herring, lake trout, and albacore tuna, or taking fish oil as a supplement. Our answer seems to satisfy most people because we were not arguing with them. We were simply accepting they have a belief (albeit, not a true one) and we give them a different piece of information that does not contradict their belief.
Reuters, For heart health, fish oil pills not the answer: study, "Omega-3 fatty acids, found in oily fish such as sardines and salmon and once touted as a way of staving off heart disease and stroke, don't help after all . . . according to a Greek study earlier this year, a group of Korean researchers found that omega-3 supplements had no effect on heart disease or death based on 20,000 participants in previous trials."
Tilapia is a low-fat, high protein fish.One four-ounce serving of tilapia (an average adult serving size) has 100 calories, 2.5 grams of fat, and 21 grams of protein.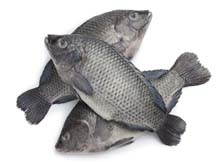 The Portable Farms® Aquaponics Systems raises incredible amounts of vegetables, but not enough of the protein and starches that are called for in a healthy diet. This encouraged us to raise the fish for food as well as the nutrient source for the plants. Now a perfectly balanced system can be utilized with very little input and amazing output including some protein. You still need some starches and some of them provide the required oils.
Flax and chia seeds are both higher in omega 3 than any of the fish sources. Very few people are deficient in omega 3. It is actually hard to be oil deprived if you eat a well balanced diet that includes whole grains, seeds and nuts.
So the healthy diet is about the FISH being consumed, NOT the oil in the fish. Adding fish to your diet is exceedingly easy with a PFAS installation. They are part of the output. The only hard part is waiting for the first fish to become large enough to harvest, that is a seven to nine month wait. After that you can harvest fresh fish on a monthly or even a weekly basis.
Another source of oil that is very easy to add is that of nuts, all types and kinds of nuts. They also pack a high calorie load so read up about what is the correct amount to add to your diet. No, you cannot raise nuts in Portable Farms® because most nuts are grown on trees and perennials are not recommended in the PFAS. 
Start today with fine tuning your diet so you are obtaining your food locally, processing in minimally, eating sparingly and enjoying life maximally.
---