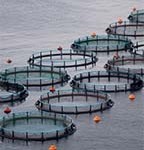 Aquaculture and Aquaponics are NOT the Same Thing!
– by Colle and Phyllis Davis 
Aquaculture

and

Aquaponics

are NOT the same!
The U.S. government is pushing for increased farm-raised fish production (in order to erase a seafood trade deficit). Estimates are that half the fish consumed worldwide will be farm/tank raised by the year 2025.
The main difference is that aquaponics' tank-grown fish grows fish as a primary resource for the nutrients (primarily nitrogen) in the water to grow healthy vegetables. Portable Farm's technology removes the heavy fish waste from the fish tanks before that nutrient-rich water flows through the grow tables.

Aquaponics is the growing of fish, or other water-based animals, along with land plants in a controlled environment, to maximize the use of the energy and nutrients in the system in order to harvest the greatest amount of vegetables and fish protein from the system.

The word aquaponics comes from words 'aquaculture,' which is the cultivation of fish or other water-based animals, and the word 'hydroponics,' where plants are grown in a sterile medium or completely in water.
Aquaculture is about the aquatic farming of fish for food. 
"A compelling case can be made for growing more seafood in the United States. While the worldwide amount of wild-caught seafood has stayed the same year to year, there is a dramatic increase in the amount raised through aquaculture. The United States is the leading global importer of fish and fishery products, with 91% of the seafood we eat (by value) originating abroad – half of which is from aquaculture. Driven by imports, the U.S. seafood trade deficit grew to over $14 billion in 2016." National Oceanic and Atmospheric Administration
According to Wikipedia: Aquaculture, also known as aquafarming, is the farming of aquatic organisms such as fish, crustaceans, molluscs and aquatic plants. Aquaculture involves cultivating freshwater and saltwater populations under controlled conditions, and can be contrasted with commercial fishing, which is the harvesting of wild fish. Mariculture refers to aquaculture practiced in marine environments.
Can the Oceans Keep Up with the Hunt? 
The reported output from global aquaculture operations would supply one half of the fish and shellfish that is directly consumed by humans, however there are issues about the reliability of the reported figures. Further, in current aquaculture practice, products from several pounds of wild fish are used to produce one pound of a piscivorous fish like salmon.
Particular kinds of aquaculture include fish farming, shrimp farming, oyster farming, aquaculture (such as seaweed farming), and the cultivation of ornamental fish. Particular methods include aquaponics, which integrates fish farming and plant farming.
Raising fish in netted cages in coastal water is often promoted as a means of easing stress on overfished populations. But, just like large scale agriculture, it has its downsides.
The main concerns about aquaculture include:
Creating fish feed for farmed fish depletes other fish species and upsets the balance of the ecosystem.
Antibiotics and other drugs used in fish farming can seep into open waters.
Waste from fish farms can pollute and breed bacteria that are unhealthy to bottom-dwelling sea creatures.
Farmed fish are generally less nutritious than wild fish and can contain twice as much of the less-healthy omega 6 fats.
FDA studies have shown that wild salmon have a 20 percent higher protein content and 20 percent lower fat than farm-raised salmon.
Of course, wild fish often costs more than farmed fish due to the expense of harvesting. And environmental factors can make the availability of wild fish inconsistent.
But the health benefits are clear.
---