The Cost to Build a Backyard 'Home' Aquaponics System
– by Colle and Phyllis Davis
Here is the answer to the most requested question we receive regarding building a backyard home aquaponics, 'What's will my installation cost me?"
The larger the aquaponics system you build, the better the investment it is because you're growing more food and saving on food costs at your local market. It's a true but sad fact that a very small backyard aquaponics system is not the best 'financial investment,' but you WILL have a year round supply of the freshest, best tasting and most nutritious food you can buy.
Please note: IT'S THE GREENHOUSE THAT IS EXPENSIVE and NOT the aquaponics technology or building materials. According to the Craftsman National Building Cost Estimator program, the pricing on a greenhouse measuring 12′ x 12′ would be around $3587, or $25 per square foot. If you want to find someone to give you a quote in your area in the US: CLICK HERE. By adding in all the other components for building a Portable Farms Aquaponics System (training – with includes your Portable Farms Kit and other materials) the cost is about $35 per square foot.

---

AQUAPONICS GOLD©  (New Ebook)
-by Colle and Phyllis Davis

Buy Aquaponics Gold Here - Launch Date, February 4, 2015

Raising Healthy Fish and Vegetables in Aquaponics

Revealing 17 Trade Secrets and 100 PAGES OF GREAT information!
Learn Tips and Trick from Portable Farms® Aquaponics Systems.

Aquaponics Gold – $39.95 – Launch Date, February 4, 2015

#1 Bestseller – Do-It-Yourself greenhouse plans for your Portable Farms® Aquaponics Systems or any other project you have. There is a 60-day money-back guarantee on the greenhouse plans.    Click Here!

 If you want to purchase a greenhouse, there are many qualified resources available including:

Important information for installing your Portable Farms® Aquaponics System inside a greenhouse:

Make sure your new PFAS building has a minimum of 10 feet between the top surface of the Gravel in the GTT to the lowest point in the roof if you are enclosing more than 1,000 sq ft (100m2) of space. This is because the gravel gets HOT and the building needs a larger amount of air in the space to remove the heat before it can hurt the plants.
Less than 10 feet of clearance above the grow tray means the air cannot circulate properly to strip the heat out of the surface of the gravel. Even if you run the CAD Pump longer periods during the hot part of the day it will not be enough to pull the temperature down to a reasonable level.
Be sure to install shade cloth to cover the entire growing area so the small plants are protected and then the larger plants can receive full sunlight when they are large enough to cover most of the gravel.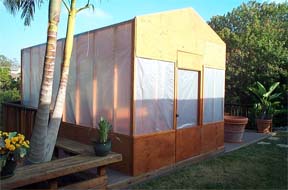 The numbers quoted below INCLUDE the cost of the Portable Farms® Aquaponics System Course© and upon satisfactory completion of the course, you'll receive one Portable Farms® Kit as part of the Course©, so you can build your own Portable Farms® Aquaponics System. This price for the Course© includes the entire assembly, operations and maintenance course as an online correspondence course, PLUS, it INCLUDES one Portable Farms® technology kit – all for the price of $2,500. Offer good only in the US and certain other countries.
– A stand-alone climatically adapted structure (greenhouse) of 10' x 16' containing one Grow Tray 5' wide and 12' long will require an investment of approximately US$4,800. This will provide a grow tray space of 60 sq. ft. or enough to feed two adults year round.
- A stand-alone climatically adapted structure (greenhouse) of 18' x 32' containing two Grow Trays of 6' x 28' will require an investment of approximately US$8,100. This size will provide a grow space of 336 sq. ft. and feed 13 people year round.
In the prices quoted above, we have not included the following:
-          The variable costs for the wide range of prices for the structure (greenhouse) for aesthetic landscaping purposes (example, grand gothic greenhouses) or for 'extreme climates' of sun, heat and cold
-          The addition of grow lights for locations with limited sunlight and for supplemental lights during winter months (November to March) for maximum production of blooming plants (tomatoes, etc.)
-          The cost of fans, wet walls or ventilation for the greenhouse structure which will vary according to your climatic conditions and design of structure.
The examples (above) show what happens with economies of scale as the systems become larger. The cost difference per person is amazing. The smaller unit costing US$4,800 divided by two people equaling US$2,400 per person. The larger unit is US$8,100 divided by 13 people or US$623 per person. That is one fourth (1/4) of the cost per person compared to the smaller unit.
After initial building costs, there are ongoing costs involved for fish, fish food, seeds, electricity and water but they are generally minimal for backyard home aquaponics systems.
If you're ready to increase your level of self-sufficiency or you're interested in a family project that involves your entire family, then consider building a Portable Farms® Aquaponics System in your backyard.
Would you like to learn more about aquaponics? Learn from us . . .