Building a Super Backyard Portable Farm
– by Colle and Phyllis Davis
READ THE ENTIRE AQUAPONICS COURSE OUTLINE: CLICK HERE.
Read our Six-Part Article Series for Backyard Aquaponics Made Easy 
- by Colle and Phyllis Davis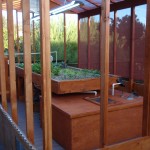 As an addition to the popular six-part series just published on the topic of Backyard Aquaponics Made Easy, we also wanted to offer nine excellent suggestions for simplifying your installation process. After all, once your Portable Farm is installed, your daily operations require only an average of about ten minutes a day to feed a family of eight.  So, yes, the work and initial financial investment are on the front end, but after that, you'll be harvesting fresh food FOREVER for the minor costs of water, electricity, seeds, etc. LEARN
Think of it this way: For the price of a used car, you can enjoy fresh organic food for the rest of your life. When you look at it like that, you realize it's a one-time investment that assures food safety for you and your family and you'll have immediate access to the best tasting food you will ever eat – right outside your kitchen door. That analogy puts things in perspective, doesn't it?
Portable Farms® Aquaponics Systems grow health food in the following climates:
VERY HOT DRY CLIMATES

VERY HOT HUMID AND RAINY CLIMATES

VERY COLD CLIMATES

WARM, MILD, SEMI-TROPICAL WITH COOL WINTERS. 
In this article, we will present the latest and most effective methods of building a climatically adapted structure for installing a completed Portable Farms® Aquaponics Systems so you can harvest your first vegetables after just 30 days after installation. The focus of this presentation of information is on backyard installations, but it can easily be scaled UP to the needs of a small commercial installation.
You will find recommended components and the process in our popular Aquaponics University's  Portable Farms® Aquaponics System Course© which provides our clients (and hopefully for YOU) easy step-by-step directions for building a simple functioning backyard Portable Farm – which we consider to be a 10' x 24' (240 total sq ft and 120 sq ft of grow space enough to feed 4 to 5 people) that is installed inside a climatically adapted structure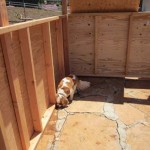 Start by building an insulated stem wall (not concrete, but 2×4 lumber and plywood with insulation in the spaces between the studs. It is in effect a short, 4 ft tall, insulated wall that the greenhouse will sit on top of the stem wall. This stem wall gives the greenhouse four more feet of head room (you need 8' to 10' of head room above each grow tray to provide air and adequate sunlight to surrounding plants). A stem walls raises the entire greenhouse to become taller which creates more air space above the grow trays. This stem wall needs to sit on a solid base; we recommend a poured footer or even a short concrete stem wall. In the tropics (hot and humid temperatures), you can use the concrete stem walls because you do not need the insulation from cold weather, but you do need the head room above the grow trays.  
Interesting side note: It is MUCH easier to HEAT a greenhouse space than it is to cool it down. There is a huge amount of thermal mass inside the building and the fish tanks are heated (78 degrees F to  80 degrees F) so the space stays relatively warm even in very cold weather. On the other hand, the heat builds up VERY QUICKLY in bright sunlight and there needs to be accommodations made for removing that heat to keep the temperature below 104° F (40C) to grow healthy plants. This includes a thermostatically controlled exhaust fan(s), shade cloth, wet walls, or swamp coolers and other methods of keeping the heat temperature down to a healthy level for the plants.
We recommend inexpensive greenhouse designs for backyard farms to accommodate the climate in your area: Tuff Greenhouses or Greenhouse Mega Stores.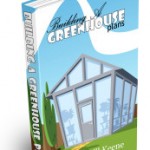 #1 Bestseller – Do-It-Yourself greenhouse plans for your Portable Farms® Aquaponics Systems or any other project you have. There is a 60-day money-back guarantee on the greenhouse plans.
LEARN FROM US: CLICK HERE.