Aquaponics Greenhouses
- by Colle and Phyllis Davis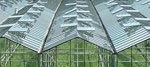 Growing food year round in any climate anywhere in the world IS the future of food. Aquaponics greenhouses are part of the growing trend for using controlled environments for the growing of food. They allow for the raising of food nearer to the consumer and consistently delivering a much higher quality product. They also require the use of less water and energy than conventional farming or even regular greenhouse growing.
The use of greenhouses for growing food is centuries old and over the years there have been incremental improvements to them. The most impactful change in recent decades has been the use of plastics to cover the structures making them much more air tight and actually safer. Yes, the coverings must be replaced every few years (3 to 20+) but, they more than pay for themselves during that time. They are also specially designed to enhance the light quality reaching the plants.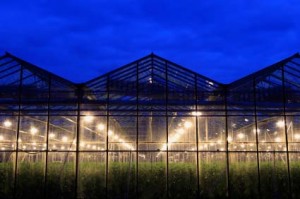 The main advantage for using greenhouses is to modify the micro-climate and to extend the growing season. The protection from the weather has a huge positive effect on the plant growth and is very cost effective. The main disadvantage, in most cases, is that the greenhouse is being used in the same-old-ways of intensive farming methods that are used in regular growing. The water is applied to the plants and the excess water flows into the ground and is lost forever. Even if watering is done with careful irrigation even drip irrigation systems, the water is lost forever.
The other greenhouse growing system that is gaining huge traction in recent years is that of hydroponics. There are literally hundreds of acres of hydroponics systems in production or in the planning stages today. Most hydroponics systems grow lettuce and basil very well but their ability to grow a wide variety of plants is limited unlike medium-based aquaponics which grows over 300 varieties of plants.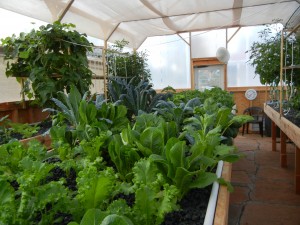 Modern aquaponics systems are almost always closed-loop growing systems. This means that the systems are very nearly self contained and, yes, you do have to put in fish, fish feed, electrical energy, seeds and some human energy and there is a very small amount of 'waste' generated. This waste from aquaponics can be used again on trees, gardens, lawns, flowers or anywhere a liquid fertilizer is normally applied because it is NON TOXIC. The sun is the main energy input and it works nearly every day and for free, use it wisely.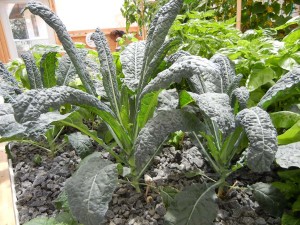 The aquaponics greenhouses do need some of the same heating and cooling systems that regular greenhouse are equipped with, but because there is so much thermal mass with the water and grow medium (often gravel) contained inside, it is much easier to heat and cool than ground-grown systems. This use of thermal mass and the careful timing of the heating and cooling requirements are the hallmark of a climatically adapted greenhouse tuned to maximize the production using very little outside energy.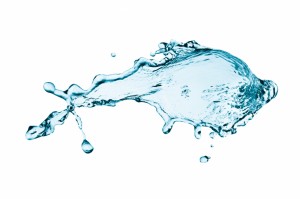 Anything that is toxic to fish such as pesticides, insecticides, herbicides and even many 'organic' pest controls will kill your fish and ruin your system. It is vitally important to keep the killing agents outside the greenhouse and out of the system. This means keeping the interior clean, neat, never bringing in any kind of soil or outside plants, having the workers wear gloves and be very careful of washing their hands and tools before and after usage and in general keeping a 'clean room' level of sanitation.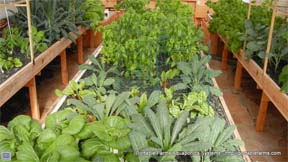 Greenhouse aquaponics will reward the owners with year round vegetables, fish on a regular basis, an income that will grow faster than inflation and production will never exceed the local demand. As the cost of fuel/energy increase the ROI on the investment in aquaponics greenhouses will become more and more attractive.
Special Report on The 5-Phases of Commercial Growing

To better assess your project and offer you the answers that are timely and relevant to YOUR specific needs, please answer the following general questions related to you and your project and we'll get back to you quickly.

Please note: PFAS LLC receives hundreds of emails, inquiries and phone calls per week from over 170 countries and we respectfully request your professionalism in responding to our requests in order to receive this valuable .pdf document, Special Report on The 5-Phases of Commercial Growing. If your contact information is not adequately provided and your answers are not fully stated in your email to us, we will not respond to your request for the document that is adequate to present to investors or business partners. Thank you very much. – Colle Davis, CEO, PFAS LLC

This special report, The 5-phases of Commercial Growing explains the costs associated for installing a single 10,000 sq. ft. aquaponics Unit and also included are the costs for one acre and one hectare.

Please copy/paste the following bolded information into the body of an email to request The 5-phases of Commercial Growing and after you have completed the requested information, EMAIL it to this address.

Your name:

Company Name:

Company Website:

Home or Company Street Address: City, State, Country, Zip:

Email Address:

Best phone number to reach you:

Six Questions:

. What size project is your group planning to build? ¼ acre? 1 acre? Etc.

2. What state or country is your project targeted for installation? Please be specific.

3. What is your projected time frame to begin your project? 90 days? One year? Etc.

4. Have you and your company ever operated a successful business for over four years?

5. Do you or your company have access to the funding required for this project? If not, do you have a target date for that available funding for the project?

6. Have you explored the marketing study for selling the food Portable Farms® is capable of  growing?

WE GROW FOOD.
Year round and in any climate.